You are here
Slimming Mirrors, Flattering Lights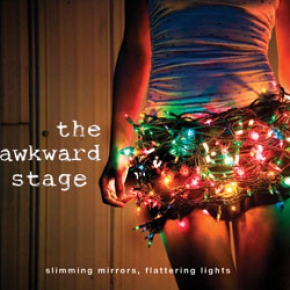 In our current cluttered musical climate, The Awkward Stage's upcoming sophomore record, Slimming Mirrors, Flattering Lights is an audiophile's oasis where the band successfully combines clever lyrics and courageous arrangements into 12 brilliant and brutally honest pop gems. Slimming Mirrors, Flattering Lights is a refreshing record. It is a fragile yet triumphant record, and possesses a rare cohesive beauty. The Awkward Stage began as the recording project of multiinstrumentalist, Shane Nelken. You may remember Shane as one of Carl Newman's henchmen in The AC Newman Band, or from CBC Radio 3's "Dear Shane", where he acted as their witty resident rocktologist and advice guru to the stars. The Awkward Stage also features Tygh Runyan (The Beans) on lead guitar, percussionist Tony Koelwyn (Bossanova), and Chris Mitchell (of the Vancouver Symphony) on trumpet. Tygh is also an accomplished actor and can also be spotted in Snakes on a Plane. Seriously!
Since the release of its 2006 Mint Records debut, Heaven Is for Easy Girls, The Awkward Stage has toured North America extensively with The New Pornographers, played with '60s legends, The Zombies, performed at the CMJ Music Marathon as well as SXSW, and was nominated for a Western Canadian Music Award for their pop wizardry. With the addition of more personal and reflective elements, Slimming Mirrors, Flattering Lights not only retains — it improves upon the infectious pop genius of Heaven Is for Easy Girls. So take notice — there's no sophomore slump here.
For photos and press resources please visit the artist page.