You are here
Won't Be Pretty b/w Wo Xiang Tanbai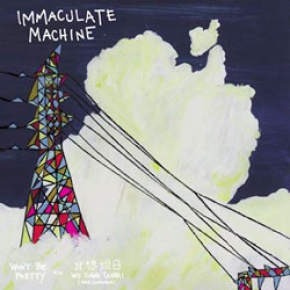 Since the release of Fables, Immaculate Machine has spent countless hours on the road and now is treating us to a special limited edition 7" single. "Won't Be Pretty" b/w "Wo Xiang Tanbai" is a limited edition masterpiece (only 500 copies were pressed) and is the perfect continuation of Immaculate Machine's musical adventures. Initially recorded during the 2007 Fables sessions, "Won't Be Pretty" stands strong on its own as a solid A-side. Reinforced by Immaculate Machine's signature melodic guitar and keyboard parts and soaring vocal harmonies, "Won't Be Pretty" is a gorgeous duet between Brooke Gallupe and Kathryn Calder. Drummer Luke Kozlowzki tastefully backs them up with his energetic drum arrangments.
Now we should probably explain the B-side, which is a little unconventional as "Dear Confessor" (of Fables fame) is in Mandarin! After being teased about their 2006 French EP, Les Un Mais Pas Les Autres by CBC Radio 3 personality Grant Lawrence, the band went back to the studio with their friend, Marie, who translated the song into Mandarin and taught it to them phonetically. Brooke, Kathryn and Luke then went to the CBC Studios and personally presented the song to Grant and it blew his mind. According to Brooke, they don't know precisely what they're saying but those fluent in Mandarin have told them it is quite well done and for the serious Immaculate Machine collectors, the 7" contains a special comic, drawn by guitarist/vocalist Brooke Gallupe, that tells of the origins of "Wo Xiang Tanbai".
So there you have it. An Immaculate 7" single. Now, let's hope their exploration of music and language continues!