You are here
Vista Cruiser Country Squire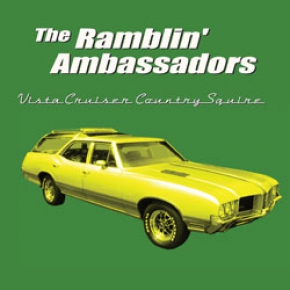 Calgary's surf legends The Ramblin' Ambassadors are back and preparing to unleash their latest, Vista Cruiser Country Squire.
Vista Cruiser Country Squire lands firmly between "Psychobilly Freakout" and "Once Upon a Time In the West." This new release boasts eight high-octane originals as well as nods to the past through tasty covers of The Surftones, The Bel-Airs and a re-write of The Sadies' "Rat Creek".
Vista Cruiser Country Squire is an album that balances tremolo and twang with groove and grind. In a genre where clichés and cheesy homages to Dick Dale abound, The Ramblin' Ambassadors serve up their love for un-ironic vintage sounds with no best-before date. This album feels equally at home in the barroom, at the BBQ, or the beach.
Vista Cruiser Country Squire was recorded, mostly live off-the-floor, by Russell Broom (Chixdiggit, The Dudes, Jann Arden) in the band's Calgary, Alberta rehearsal space and features Brent Cooper of Huevos Rancheros fame on lead guitar.