You are here
Volcano... Bloody Volcano!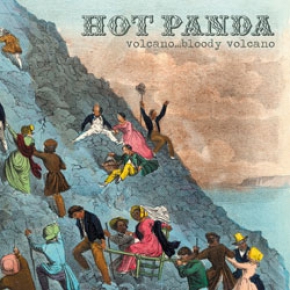 Hailing from Edmonton, Alberta, Hot Panda formed during the particularly chilly winter of 2006. Chris Connelly (Vocals, Guitar) and Maghan Campbell (Drums, Vocals, Glockenspeil) returned home from living overseas in Oslo, Norway and were inspired by the vibrant Norwegian music scene they left behind. Joined by Keith Olsen (Bass, Vocals) and Mike Robertson (Guitar, Vocals) they recorded their debut EP Whale Headed Girl. Heath Parsons (Keyboards, Guitar, Accordian) joined the line up and the band started to receive some local press attention, appearing on the cover of Vue Magazine and getting voted the 3rd best band in Edmonton by See Magazine.
 The Hot Panda debut, Volcano... Bloody Volcano was recorded in Winnipeg, MB at MidOcean by Ryan McVeigh (Boats! Intercontinental Champion) and was released on February 10th, 2009 by Mint Records. 
Volcano... Bloody Volcano is a collection of collaborative songs chock-full of the band's spastic energy. It's reminiscent of Clap Your Hands Say Yeah, State Bird, older Flaming Lips (think "Tangerine"), with flashes of An Albatross. Comparisons to luminaries such as Daniel Johnston and The Talking Heads have also been swirling about and while it is always nice to be compared to such bands, Hot Panda have certainly found their own sound. Leaving behind the frozen garage jam sessions in which their musical explorations began, Hot Panda have been taking their unique blend of Brit Pop, Glam & Lo-fi Indie back and forth across the expansiveness of Canada and the USA winning new friends and fans. They have already become an experienced touring act, playing well over a hundred shows in a very short time including sets at CMJ and PopMontreal.
"Undiscovered Canuck indie rock at its best, with amazing collective vocals, jaunty keyboards and blazing guitar. This band weren't just good, they were frickin' great. Hot Panda are of next big thing pedigree." -Chart Attack