You are here
Worser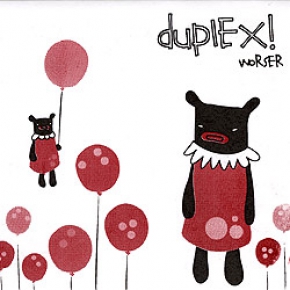 Continuing along on their mission to deliver indie-rock to the small people, Vancouver's Duplex! came back with Worser, their second full length album and highly anticipated sequel to their debut Ablum, released on Mint Records in 2005.
Never ones to shy away from the hard truths, Duplex! tackled many serious themes with this album. Topics included evolution, hibernation, same-sex divorce, dogs wearing sweaters, and the making of both sandwiches and mistakes. It, again, featured the talents of Veda Hille, Justin Kellam (No Kids), Annie Wilkinson (Onward Voyageur), Matt Caruso (Chariots of Eggs), Shaun Brodie (AC Newman, Hidden Cameras), Saoirse Soley, Sierra Terhoch, and Abe Caruso, along with special guests Geoff Berner and his daughter Margot, and newcomers Gracie Mae Caruso and Anders Hille Kellam.
Recorded at The Hive, hippest studio in town, and featuring a silkscreen cardboard cover designed by Annie, Worser was made available digitally through Mint Records on October 13th, and sold in hard copy at shows and through vedahille.com.
Kids and parents rocking out and learning about noble gases, orange popsicles, and a little sister's love for her big brother? You couldn't ask for anything else from a record.
"Four years after their refreshingly unique debut, Ablum, Vancouver, BC-based, Veda Hille-fronted children's band Duplex! are back with another album full of eccentric tunes for kids and their keepers. Worser is an eclectic collection that includes several danceable, toddler-friendly rock tunes." - Rachel Sanders, Exclaim!
"...this album is pretty adorable and the players on the album (Veda Hille, Geoff Berner, members of No Kids and AC Newman to name a few) do an excellent job of putting together simple songs that will do a good job of bridging the gap between Raffi and the New Pornographers for young listeners." - Jordie Yow, Discorder