You are here
High on Jackson Hill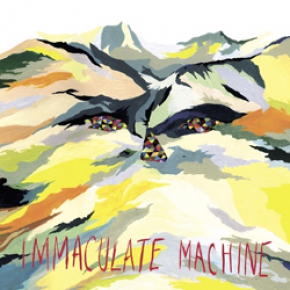 High On Jackson Hill is the latest release from Victoria's Immaculate Machine. Following up the critically acclaimed Mint Records release Fables, Immaculate Machine took a different approach to the recording of High On Jackson Hill. The band traded in the recording studio in favour of recording sessions in songwriter Brooke Gallupe's parents' empty house. These sessions were captured by Colin Stewart from the Hive Studios (Black Mountain, Destroyer, Cave Singers).
High On Jackson Hill is very much a realization of Brooke Gallupe's sheer song writing talent and pop musical prowess. Brooke has arrived as a singer and a songwriter in his own right. The Victoria, BC artist is also a fearless musical virtuoso. A kid who joined his first rock band at age eleven, having no clue how to play the guitar but soloing away anyway. Through his teens he remained fully ambitious, training for years as an opera singer and a jazz guitarist, alongside playing in punk and soul bands. He formed Immaculate Machine in 2001 with high school friends Kathryn Calder and Luke Kozlowski.
Instead of being meticulously polished in the studio, these songs were hammered out on the spot. No idea was too stupid to try in this creative environment and some of these ideas are audible on the album: car engines revving, doors slamming, pots and pans used as percussion and a chorus of singers plugging their noses. For the recording of High On Jackson Hill, the band has been through some lineup and role changes within the band. Longtime drummer Luke Kozlowski (Drums, Vocals) has retired and Kathryn Calder (Vocals, Keyboards) is focusing on her other musical projects (The New Pornographers). While Kathryn's contributions can be heard throughout the the record and will continue to perform with the band on occasion, these developments have cleared the path for Brooke to create the Immaculate Machine album he has always wanted to make, blending all of his musical ambitions, talents and interests.
Two EPs and three full length albums later, the band showcases a more relaxed and spontaneous side with High On Jackson Hill. "Thank Me For It Later" and "He's A Biter" touch on T-Rex influenced riffs topped with laid back yet playful and glammy vocals. A more folkier sound appears on the melodic ballads "And It Was" and "You Destroyer". Marek Tyler (Meatdraw) also joined the band for the sessions, adding his distinct drum sound and percussive textures with bongos, shaker, chains, buckets & backwards cymbals. Also given a re-working is the track "Primary Colours," originally written for Gallupe's other band, Rugged Uncle. This batch of new songs take the Immaculate Machine sound to a new level. Twelve complex yet cohesive, inspired and melodic songs that will no doubt expand the bands ever growing audience.