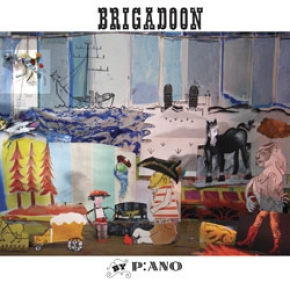 Brigadoon was the third full-length album from Vancouver-based pop practitioners P:ano, and the first released by Mint. P:ano's first two albums found a band working to find a voice of its own in contemporary indie rock. As it turned out, P:ano's voice was uniquely eclectic, idiosyncratically engaging a diversity of musical and thematic interests.
Where their previous releases hosted many guest players, Brigadoon featured only the multitalented core band of Nick Krgovich, Larissa Loyva, Justin Kellam and Julia Chirka singing and playing all manner of instruments, from zither to drum machine to trumpet to handclaps. As such, Brigadoon was a kind of overdue debut of its own, and not only for Mint.
With its lush, layered, and complex production and varied, unconventional instrumentation, Brigadoon garnered repeated (and well justified, we think) comparisons to Brian Wilson's opus Smile. Never ones to be stuck in a rut, (even a magnificent rut) the gang returned to Hive Studios one morning armed only with a ukelele, accordion, bass clarinet & a box of percussion instruments and recorded & mixed 11 stripped-down, near-perfect pop nuggets that would become known as Ghost Pirates Without Heads in time to be home for supper.
While the recordings are technically very different, immediately noticeable were the beautiful harmonies, the clever arrangements, and plenty of the wry, quirky wit that we all so loved from Brigadoon, as well as their previous releases When it's Dark and its Summer and The Den. Perfect, quirky, Bacharach-like, lovely, melancholy, poignant, joyful: these were but a few of the most oft-used adjectives reviewers brought to bear in describing Brigadoon.
If there is such a thing as a nationally representative response, P:ano is Canada's answer to The Fiery Furnaces. - Alan Ranta, TinyMixTapes
Incorporating the foursome's varied pop sensibilities, P:ano unabashedly hold their open-hearted sincerity out for all to see and traipse through a plethora of different sounds with a youthful sense of exuberance and curiosity. - Kevin Hainey, Exclaim!
P:ano is doing something that is rewarding for its originality. Behind all the modest gestures, it's vastly obvious how much they invest in the music. For all P:ano's wistful demeanor, you can still tell they're an optimistic band at the core, and it's this optimism that makes you sure they're only going to keep getting better. - Lee Henderson, PopMatters
But when it comes to P:ano, an event is subservient to the music; the music itself procures that euphoric, almost nostalgic feeling that is usually only conjured by summer. - Mr. P, TinyMixTapes