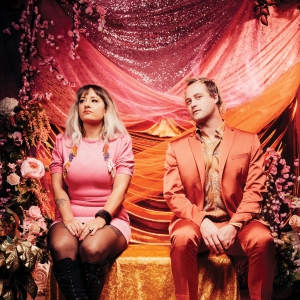 Calgary's Miesha & The Spanks are back with a new full-length album that raises the high bar set by their 2021 Singles EP while celebrating the super-duo's debut on Mint Records. Flaunting their affection for the wild roots of '70s and '80s rock, these ambassadors of badassery serve up a tableau of après-garage ringers that would bring The Runaways themselves charging back home.
Mixed-Secwépemc artist and new mother of twins, singer/guitarist Miesha Louie's distinctive voice and perspectives bleed through every riff and rebellious utterance. Her Mother's Tongue backlash is echoed by drummer Sean Hamilton's tattooed tempos, giving each of the tracks on Unconditional Love in Hi-Fi an unmistakable hard-driving aesthetic.  Piloting their hyper-sonic spacecraft through an asteroid field of playful harmonies and pointed jibes, Miesha urges the marginalized to stay visible. Her clever lyrical turns and edgy guitar attacks are the perfect tools for manipulating the system, and social attitudes, with a brazen dose of addictive vibration.
Assertive head-turners like "So Mad" and "Bully" showcase the duo's ability to harness the creative forces of nature into pure DIY punk rock energy. These complementary values permeate the tragic yet prophetic "Bear Kids" (partially spoken in Secwépemc), as well as the two-piece's compelling radio rocker "Dig Me Out!" – about the horrific impact of residential schools. Miesha gravitated towards real-world problems as she retraced memories and conjured the future with her "dream team" producers Daniel Farrant (of the iconic English punk group Buzzcocks) and Paul Rawson recording at Brighton Electric Studios in the UK, and at National Music Centre and OCL Studios back home in Alberta. Synchronized in their collaboration, Louie and Hamilton weave an audio spell that flows across genres – embracing elements of R&B, blues, folk and country mores. The latter being most evident on the blazing sh*tkicker "Heart On Fire," as Hamilton's renowned footwork ignites a barnburner guaranteed to set your denim tuxedo ablaze.
A hot shock to the brain and a shot of whisky for the soul, Miesha & The Spanks' jukebox of barroom bangers beautifully conveys a litany of uncomfortable truths with dangerous come-hither venom. Bombastic beats and humming amps charge through indie anthems "Enough is Enough" and "I Was Gonna" with all of the band's signature bull-in-a-China-shop delicacy. Because, if we learned anything from unquiet role models like Sleater-Kinney, L7, The Muffs, Hole, or The Donnas it's that body shaming and gatekeeping are history. There's no escaping the grasp of the multitudinous modern hooks that'll drag you into a moshpit vortex with a "GRLSROK" banner flapping overhead. Visionaries on the verge, Miesha & The Spanks will corral you with a bone-crushing hug and spike your spirit with a jolt of punk rock positivity.
This brick house-solid LP's other outstanding singles include "It's My Year," "I Can't Wait," and "Mom Jeans // Mom Genes," comprising some of Louie's progressive repertoire of contemporary protest songs. Shaking the rafters with her radiant range, Calgary's punk poet laureate readily spills her street-smart heart. The fact is, few can match the immediacy and accuracy of Miesha & The Spanks' blinding gaze. It's only fitting that this hard-working duet is receiving the attention they so richly deserve -- once you experience their brand of raucous joy your veins will pulsate with the boundless power of Unconditional Love In Hi-Fi.
Words by Christine Leonard
RIYL: Wet Leg, Alvvays, Fleshwater, Black Mountain, Yeah Yeah Yeahs, Joan Jett