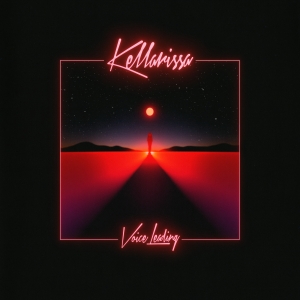 Kellarissa offers redemption to lost souls searching for meaning in dark places. Voice Leading, her fourth full-length album with Mint Records, is a vulnerable, self-realized ode to female desire, regret, shame, self-compassion, and cautious healing.
Kellarissa (Finnish for "in the basement") is the solo moniker of experimental pop artist Larissa Loyva, whose two-decade-long output of exacting pop music also includes her critically acclaimed collaborations with Nicholas Krgovich in the chamber pop band p:ano, synth-pop duo Fake Tears, early pop-choir ingenues The Choir Practice, as well as stints as a touring member of How to Dress Well and Destroyer. She is best known for layering vocals and synthesized sounds, and for making abstract themes relatable through her questioning lyrics and poetic sensibilities.
Kellarissa composed Voice Leading during lockdowns and times of uncertainty, allowing her to explore her psyche through her music: "Creating in this vacuum had a wild effect on me, had me constantly doubting my own abilities. My imposter syndrome was off the charts at times. But I pushed myself to continue writing and recording, and to face the effects problematic drinking and pent-up mental anguish had on my creativity and sense of self; it gave me the perspective to discover areas in which I needed help and healing in my life." 
Although the album was self-produced and recorded, Kellarissa enlisted the help of Jesse Gander (Japandroids, The Pack a.d.) and Jeff Cancade (Devours, The Golden Age of Wrestling) for final mixing touches, and the record was mastered by Ryan Morey (Daniel Romano, Yves Jarvis). The result is a saturated sonic tableau of cinematic synths and soaring crystalline vocals, artfully produced pop music that can be placed with the likes of Perfume Genius as well as more idiosyncratic producers like Laurel Halo.

Voice Leading is Kellarissa's most conceptual record yet, situating listeners in an enigmatic hall of possibility. References to Anne Garréta's 1986 Oulipan nightclub novel Sphinx are woven throughout the album. On "Bad Influence" and "After Hours," cerebral pop turns are inflected with the savvy dance energy of nineties iconoclasts like Björk and Pulp. Synth-driven title track (and lead single) "Voice Leading" flirts with affairs of the mind and the agony of not knowing. There's a scenario Kellarissa can't quite put her finger on in "Anemoia," where déjà vu is veiled by anxiety and dread: "I'm feeling a nostalgia for a place I've never been."
Creating this record was Kellarissa's antidote for challenging times. With Voice Leading, she is able to take the infinite depth and formlessness of the club and give it edges, corners: a pulsating shape that plumbs the dark spaces hollowed out by yearning, restraint, and despair in an attempt to crack the enigma and let in the light.
Pre-order Voice Leading by Kellarissa, out April 1, 2022. CD and very limited edition vinyl* available.
*Due to production issues, online LP orders will not ship out in time for release date (exact date TBD).