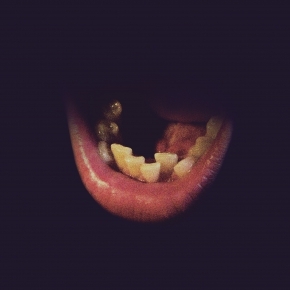 Long before Jessica Jalbert began recording under the solo moniker Faith Healer, she fostered a tight collaborative friendship with fellow Edmonton-bred polymath Renny Wilson. They've made boppy garage rock in Tee-Tahs, kicked up a racket in Punk Explosion, and even played in a scattering of cover bands. In 2011, Wilson was a key contributor to Jalbert's solo albumBrother Loyola.
So when Jalbert set about creating her new solo album under the name Faith Healer, she naturally called on her old buddy to help out on production and instrumental duties. The result of these sessions is the debut LP Cosmic Troubles, which will come out this spring on Mint Records.
Jalbert wrote this material while absorbing a steady diet of psychedelic rock from the '60s and '70s. This fixation translates into inventive songs that combine the sun-kissed sparkle of classic pop harmonies with head-swimming trippiness and a few forays into thundering fuzz.
She and Wilson played all of the parts themselves. "He had a recording set-up in his parents' basement," Jalbert explains of the sessions. "His mom and dad cooked us dinner pretty much every time. It was very much a family affair." Wilson captured the songs using his vintage console, which — if rumours are to be believed — may have been used on some Steely Dan recordings back in the day.
The pair worked slowly, their overlapping schedules meaning that they were only able to record periodically. "We had such intertwined lives, because we were both working at the same record shop, and he was working on the days I had off," Jalbert remembers. "We could record on Tuesday afternoons, that was the only time we had. And if one of us didn't have a free Tuesday, we couldn't record that week."
Eventually, they logged enough Tuesdays to finish Cosmic Troubles, which captures the warmth of the Summer of Love along with an eclectic sense of anything-goes adventurousness. Opener "Acid" finds Jalbert renouncing hallucinogens after a bad trip, but the wah-laced fretwork suggests that she might still be feeling some of the drug's after-effects.
"Canonized," on the other hand, swaps out woozy psych for the speaker-assaulting distortion of alt-rock, its titanic chorus sounding like a long-lost hit from the grunge generation. Expanding the palette even further, the blissfully airy hooks of "Until the World Lets Me Go" are bathed in watery guitar jangle, while "Angel Eyes" begins with pensive pastoral plucking before unexpectedly speeding up during its cloudburst finale.
Clearly, Jalbert and Wilson bring the best out in one another. They have already covered a lot of ground over the years, but Cosmic Troubles is their greatest triumph.