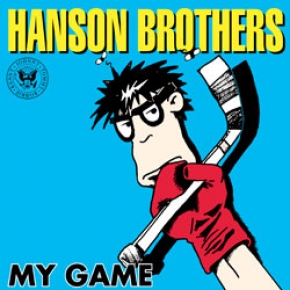 They shoot, they score! After five years on the bench for major misconduct, Canuck rink rats The Hanson Brothers are back on the offensive with their third puck-rock power-play My Game. Sticking to their tried-and-true formula, the bros -- Johnny, Robbie, Tommy and new drummer Ernie -- belt out 15 tunes about Canada's national pastime, set to the three-chord pinhead glory of classic Ramones. "No fancy schmancy pants and / No dipsy doodle dancing / It's hockey a la Hanson," Johnny promises on the title cut, and for the next 40 minutes that's what you get -- pounding drums, driving bass, grinding guitars and lyrics about breakaways, rookies, hoisting the cup and giving 110%. Clearly, these boys came to play. - Winnipeg Sun
The Hanson Brothers is the puck digging, bench brawling alter-ego of Victoria, BC punk legends Nomeansno. With a rock'n'roll legacy built on sharp wit, love of the game, and hoser-inspired antics, the Brothers were forced to ditch their European Sudden Death tour, and fast, following a disastrous incident in Bremen that involved two Hanson Brothers and a melon vendor. Fortunately, all criminal charges were dropped.
A play off Black Flag's My War (as if I even need to tell you that), the Brothers' third full length, My Game, came out on Mint in 2002. If there was any doubt these underdogs could complete the hat trick given the impossibly high standards set by their previous releases, Gross Misconduct and Sudden Death, My Game sends them back to the minors.