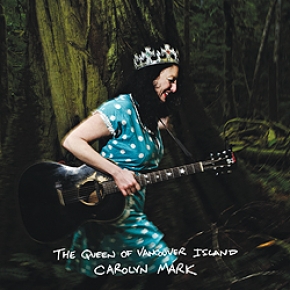 Lofty titles have never found much of a home on Vancouver Island, but if there's anyone who has been around long enough to start doing some crowning, it's Carolyn Mark. A culmination of Mark's long-time friends and collaborators, The Queen Of Vancouver Island illustrates the West Coast chanteuse's pivotal role in the Vancouver Island music community. It is also the name of a ferry boat that plies the Georgia Straight on a daily basis.
Without reverting to terms like "illustrious", "laurels", or, god forbid, "lifetime achievement", Mark's career has been long, winding, and admirably unfaltering. Forever looking forward, yet never too haughty to enjoy the present, the songwriting and friends who lend a hand on Queen make it impossible to refute the self-crowning with a friendly reminder that the songwriter hasn't lost her playful side.
Recorded over five sessions in three locations (Hollister, CA, Vancouver, BC, and Victoria, BC) during the winter of 2011-12, the opener "Poor Farmers" hears a voice coming through an old telephone at first before materializing in full with the advent of an acoustic guitar. A rallying call for all drivers to return to their vehicles is met with beautifully sparse stand-up bass and sweet harmonies from Terri Upton.
Featuring Hank Pine on cello, Paul Henry Oppers on harmonica, and Rachelle Reath on viola with a sha-la-la-la chorus and wailing guitar from Tolan McNeil, the title track gives off the feeling that Mark just couldn't stop inviting people over to join in the recording fun.
From the infectious chorus of "Everyone is so young" on "Baby Goats" to the rollicking cover of Elvis' "Flaming Star", Mark makes way for friends like Myke Hall, Juli Steemson, Joel Fernandes, Dennis Siemens, Paul Rigby and Paul Pigat, The Burnettes, Jon Wood, and Laura Freeman to join in throughout the album. When it begins to wind down on the backwoods sass of "Not Like The Movies", which describes the realities of being a touring musician, the album sums itself up with the inevitable descent from Queen to Whore through the pair of "We Weren't Always Old Whores" and "You're not a Whore (If No One's Paying)".
The Queen of Vancouver Island is now in the terminal. Would all drivers please return to their vehicles?