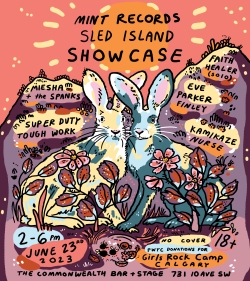 We're looking forward to being back in Calgary for our annual Sled Island Showcase! 
Join Mint Records on June 23 at The Commonwealth Bar + Stage from 2-6pm for performances by Faith Healer, Super Duty Tough Work, Miesha and the Spanks, Kamikaze Nurse, and Eve Parker Finley.
The show is free to attend and we're welcoming PWYC donations for Girls Rock Camp Calgary.
Poster design by Madeline Berger aka @fungalmatters