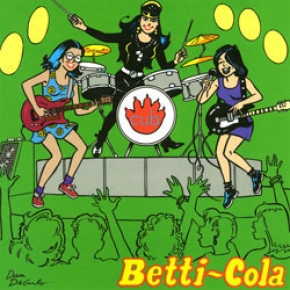 Two little titles did very big things for Mint Records in 1992: cub and Betti-Cola. NOBODY expected this album to do what it did... make cub a college radio smash, a touring sensation, and sell a whole slew of records for a very surprised, and then tiny and dumb, record label. We're not, uh, tiny anymore!
Besides the twenty-four songs of minimalistic pop music potpourri from cub's two singles and early studio sessions assembled here, you may recall Betti-Cola's great coup: exclusive artwork from the one and only Archie Comics illustrator Dan DeCarlo!
Recently, we've remastered and rereleased this cuddlecore classic. Find a copy and dance around your livingroom to songs about chinchillas, sunflower, nightshade, carrots, and celery. It just might change your life — or at the very least, make your day that much perkier.