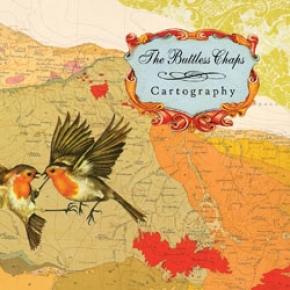 One hell of a new album... The gorgeous artwork accentuates the excellent album to a T. Both are exploratory things of beauty, well worth the investment of your time. - Monday Magazine
This is a band at its peak and Cartography is a work of art. - Discorder Magazine
More reviews below ...
From their inception in 1998, The Buttless Chaps played for audiences across the continent and created six studio albums that demonstrated increased breadth and artistry with each release. The Chaps were an outfit that placed absolutely no limits on their musical wanderings and Cartography is no different.
The result is an imaginative and seamless journey from traditional country to new wave to punk, performed without irony or pretense. The Buttless Chaps' fourth release for Mint Records, Cartography was recorded at the Hive Studios by Jesse Gander (Pride Tiger, The Pack a.d., Bison b.c.). Combining many elements of The Chaps' ever-changing sound, Cartography is packed with acoustic rural and cold war electronic influences blended together in carefully orchestrated songs. Lyrical imagery encapsulates the isolation of the modern world, and the quest to find a little patch of green for oneself, showing how the band has always been muscially torn between the country and glittering lights of a human metropolis.
While the band's earlier releases were recorded in a small studio tucked away in the pine beetle infested forests of northern British Columbia, Cartography is the first release since their self-titled debut to be written exclusively in the city. Nevertheless, the seeds that conjure up those feelings of a yearning for visual expansiveness still remain.
Joining the band here is drummer Dan Gaucher (Fond Of Tigers, Rabnett 5), whose spontaneus energy and creativity is apparent throughout the recording and brings the band together with a more aggressive sound on such tracks as "Coal Grey Sky". Ida Nilsen (vocals, keyboards) rounds out the cast of long time regulars Morgan McDonald (Keyboards), Lasse Lutick (electric guitars), and Dave Gowans (Lead Vocals, Guitar and Banjo). Special guest Tim Vesely of Rheostatics fame also makes an appearance on several tracks.
Cartography was released following The Buttless Chaps' tenth anniversary, which they marked with a digital release for CBC Concerts on Demand. Sadly, the band called it quits in the following year.
... more reviews of Cartography:
It's an album that makes you close your eyes and listen, which is always a good sign. - Edmonton Sun
Gowans ability to pen a sci-fi ballads and rural anthems (and tracks like "Coal Grey Sky" will satisfy any classic Chaps fan), but with beautiful harmonies, static electro currents and terrific percussion the Chaps are able to replicate lonely nights in dark cities (the energy that crackles throughout the desolate title track is incredible). - HeroHill
Blending folk-country with a bit of atmospheric new wave sentimentality, Cartography takes you on a soft, dream-like journey that you won't want to wake up from. - Discorder
Sombre country rock underpins world-weary vocals, and while the guitars may twang, the effect is closer to a musical meditation than a whiskey-soaked hoedown. This basic foundation allows for some interesting side trips -- such as the vocoder-filled gravitas of The Opera, which wouldn't sound out of place on an Air album-- while still providing an ideal soundtrack for a late-autumn solitary trek through fallen leaves. Suitable for a cool, Canadian October. - The National Post
From the dead-souls darkwave of "Broken Transit, Broken Soil" to the campfire twang of "Water by the Wayside", the group's latest album, Cartography, maps out terrain where others would fear to tread. It's a good indication that, 10 years into their career, the Chaps are just getting started. - Georgia Straight
Cartography is an ideal name for an album that reveals itself as an expedition across unknown landscapes, matching in name the record's sense of discovery, of twists and turns, of behemoth rocks rising suddenly out of the ground where just moments ago there was plains and rolling hills. - Vue Weekly
Cartography is a mesmerizing, virtual magnum opus from Vancouver's The Buttless Chaps. While previous Chaps albums have always tested the boundaries between organic folk and synthetic electronica, Cartography is an even more aggressive exploration of this binary, resulting in a beautifully wrought, complex and cohesive outing. - Chart Magazine
What with GPS gizmos and Internet pathfinders, the art of cartography is probably now archaic. And yet, with its latest release, British Columbia's the Buttless Chaps sounds nothing like dated. Cartography is panoramic and often futuristic, expansive in its arrangements and lyrical imagery. The band and leader Dave Gowans specialize in juxtaposing old sounds with new wave. The title track updates Doorsian psychedelia with a spacier direction, and a funny thing happens on the way to The Opera, a sublime track with a classic piano motif and a robotic vocoder. Water by the Wayside forebodes gently; Cool Grey Sky has a folk-rock strum. If it sounds like the Chaps are all over the map, that just isn't the case. Rather, its course is absolutely chosen. - The Globe and Mail
it combines strummy folk songs with vaguely futuristic synths and effects-laden guitars into a serene chamber-pop hybrid. - Ubyssey