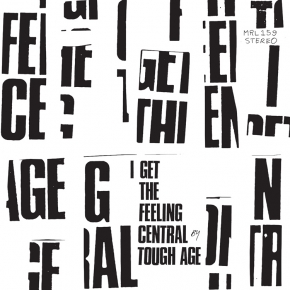 If Tough Age's self-titled debut was the culmination of four radical adults, I Get The Feeling Central sees them busting outside of their comfort zone. Once again, this 12-song collection is built on the bedrock of scuzz pop — simultaneously sweet and ear-splittingly loud — but these old dogs have dug deep and taught themselves some new tricks. From the thunderous glam-stomp of "Snakes & Ladders" to the ominous surf instrumental "Landau, Luckman & Lake" to the self-dubbed "evil Donovan" psych-pop of "Castigation", it's a thrilling listen that zigs where you expect it to zag.
"When I make a record, I want to be uncomfortable," says singer/guitarist Jarrett Samson. "I used to record everything lo-fi and in the red because that was a sort of security blanket. Then our last album was relatively hi-fi, even though it was recorded in a rehearsal space with a bunch of microphones. This time we worked at a more professional studio. As it came together, we started thinking about how to challenge ourselves to make it sound varied and totally different than what we do live."
The studio Samson mentions is Little Red Sounds, the Vancouver homebase of producer Felix Fung. Following the success of releases by hometown heroes Chains of Love, Dead Ghosts, and The Tranzmitors, he has leveled up Tough Age with a lustre of supercharged sugar rush fuzz. The album's breadth of styles follows in the tradition of A Quick One/ Sell Out-era The Who with the scorched garage moves of "It's My Pride"-era The Guess Who. Meanwhile, the bubblegum sounds of songwriters named Tommy and jangling genius of New Zealand's Flying Nun roster continue to hover on the horizon.
Lyrically, I Get The Feeling Central extends the Tough Age throughlines of introspection, self-deprecation, and ultimately moving past unrealistic expectations. "It might sound like a dumb pop record, but I needed it to have meaning for me," Samson explains. "The whole crux of this album is a thematic response to how I was feeling about the first album. It's about the internal pressure of thinking this is as good as you're going to get, and that it isn't very good. Then comes the realization that it doesn't really matter. It's the feeling of having to do what you have to do for yourself. If you don't create anything, you won't be you anymore."
As a framing device for these universal emotions, Samson gets his kicks like Dan Bejar or Robert Pollard by scattering songs with obscure allusions. Here, these include the themed area of Disneyland housing the Haunted Mansion ("New Orleans Square") and a fictional holding company from the pages of Wolverine, Uncanny X-Men, and Deadpool ("Landau, Luckman & Lake"). Even if these would fly over the heads of most people outside of a comic convention, his intention is simply leaving the clues for anyone to find them.
"I'm probably the sole occupant of the Venn diagram for people who care about the things that I'm referencing," Samson laughs. "I like hiding things and I like it when people pick them up, but I don't expect that anyone will. To offer another example, the song title '50 Girls 50' is taken from the name of a classic comic by Al Williamson from EC's Weird Science. You don't need to know that to understand a song about having your heart broken."