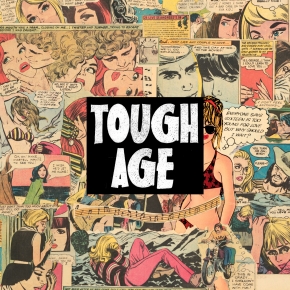 Tough Age is culmination-rock. The sound of four radical adults with shared decades of experience, chops and killer record collections coming together to create charismatic, idiosyncratic pop songs for the ages.
Following the dissolution of Vancouver's beloved surf-punks Korean Gut, frontman Jarrett K. (also a member of Apollo Ghosts, Role Mach and too many more bands to list) cherry-picked a stacked line-up for his next project. Penny "Agamemnon" Clark provides a jangly drone-wash of guitar and backup vox. Lauren Smith holds down the low end with beating heart basslines. Finally, Chris Martell (Sightlines, Collapsing Opposites, and last seen with Jarrett in a Minutemen cover band) rounds out the dream team with monster fills on the kit.
For their stated sonic inspirations, the band is quick to whip off a laundry list of musical heroes. From lo-fi godfathers Guided By Voices to the New Zealand fuzz-pop of Toy Love, the Clean and Bird Nest Roys, they also dig deep into Canadian garage 45s of the '60s from names like the Townsmen, Jury and Ferraris of Canada. Heck, there might even be a dash of Tommy James and the Shondells, plus the cartoon bubblegum of the Archies, Groovy Ghoulies and Ohio Express. Yummy yummy!
Nonetheless, lingering underneath the surface of their Saturday morning sugar-rush is an ocean of emotion. Channeling his feelings into sub-three-minute pop songs, Jarrett's lyrics touch upon break-ups (both romantic and musical), dreaming of a different life, and in his words, "being mutually complicit in agony." This internal exorcism comes across in the music --- placid one moment, frenzied the next --- and in his mind serves as healthy catharsis. "I don't like therapy or drugs, so it's sort how I medicate myself," Jarrett laughs. "I write these songs to get rid of them. I don't cut myself, I just write a catchy ditty."
So what does it actually sound like? Tough Age tapped fellow Mint Records signee Jay Arner for the production of their debut LP, and the results are immaculate.
Emerging from the gritty basement recordings of previous projects, these golden-hued tunes mix head-rush rippers, swoon-worthy slow jams and hooks for days. From the barbwire riffs of "We're Both To Blame" to the beach blanket bingo of "Open It Up" and frenetic fills of "Cocaine Vouchers", the band slows things down with the stop-start "Ticket to Ride"-beat of "Have You Seen Her", paisley-pop jangle of "Seahorse" and soda shop romance of "The Heart of Juliet Jones." For fans of timeless songwriting from an off-kilter filter, it doesn't get much better than this. - Jesse Locke
"Jarrett K. Samson, a veteran of such local notables as Apollo Ghosts and Korean Gut, helms this scuz-pop project with maximum charisma." - Exclaim
"with its echoey vocals, fuzz guitar, rubbery bass and thundering drums, it plays like a cross ebtween Rocket From The Crypt's "On a Rope" and Loop's "Straight to Your Heart," as incongruous as that combination may seem - and the louder you turn it up, the better it sounds." - The Stranger