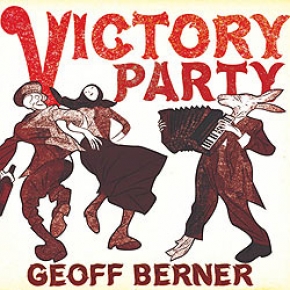 "An evening spent with Geoff Berner's music is, in the words of the good Dr. Hunter S. Thompson, "a wild combination of menace, madness, and genius… fragmented coherence that wreaks havoc on the mind of any listener." – Vue Weekly, Edmonton
 
"I know this sounds extreme, but with producer Josh Dolgin's help, and Mint Records' backing, I was finally able to realize my potential in the medium of recorded music."
After completing his highly-acclaimed "Whiskey Rabbi" trilogy of trio albums, it was time for Geoff Berner to move on.
"I wanted to make an album that sounded bigger, more "klezmer-ey", and more transgressive, all at the same time. And I knew I couldn't do it alone. In fact, I knew that I couldn't do it without Josh."
Josh Dolgin, aka Socalled, is an acknowledged genius of modern Jewish music. He is famous for his own albums, which fuse hip-hop and klezmer. A feature film about him, "The Socalled Movie", was released internationally in 2010 by Canada's National Film Board.
"I had to swallow a great deal of anxiety to be able to hand the reigns of production over to someone else. And if anything, he exceeded my expectations. He had a new idea for making a song better every 3-5 minutes.
New musicians were also added to the mix. Benjy Fox-Rosen and Michael Winograd came up from Brooklyn to play bass and clarinet, respectively, as an addition to familiar brilliant members of the Berner posse -- Wayne Adams on percussion, Diona Davies and Brigitte Dajczer on violins.
What's really remarkable about Winograd and Fox-Rosen is that they are among the first true new klezmorim in 70 years. Since the 1970s, klezmer revivalists have always come to the music from other styles, like old-time country, classical, or jazz. Benjy and Michael learned to play their instruments by learning klezmer. That really hasn't happened since before the Holocaust. They represent the flowering of a reborn radical Jewish culture, what Berner's tourmate Daniel Kahn of Berlin band The Painted Bird calls the "Klezmer Bund".
"We're all trying to put out a vision of Jewish culture that's the opposite of the conservative, knee-jerk pro-Israel, judgmental bullshit that's emerged in recent decades."
That vision is evident at Berner's live shows, which tend to devolve into crazed, chaotic, drunken dancing and psychotic laughter. He has built a sizable cult following through extensive touring, and audiences of odd, bookish people who like to drink come out to pack bars in Berlin, Amsterdam, Oslo and Zurich, as well as in Canada. Look out for the Victory Party to hit your town this year!
Some Notes From Geoff on Each Track:
Victory Party
I once met a 94-year-old German klezmer violinist. I asked him how he came to learn klezmer. He said that at the end of the war, a Jewish camp survivor returned to Berlin to reclaim his bar. He paid German musicians to play klezmer tunes while he slowly drank himself to death. Something about that story seemed to hook into how I feel about the world these days.??
Laughing Jackie the Pimp
A new version of an old Yiddish song about the local tough guy getting beaten up by tougher toughs from outside the neighbourhood. I made Jackie a Pimp because I don't like the way people are using the word "Pimp" these days as a verb to denote "make something better".??
Wealthy Poet
I told Josh I wanted to make this song sound like it could be played in the back of a taxi in Paris. I wasn't sure what I meant, but he did it.
Mayn Rue Platz
This love song is by Morris Rosenfeld, a Yiddish poet and sweatshop worker who lived at the beginning of the 20th Century in New York City. In 2011, the developed world has not abolished sweatshops, only moved them. That is why I asked the world-famous Chinese-Canadian singer and Erhu player Lan Tung to sing and play on this new version. She and her father wrote the beautiful poetry of the verse she sings in Mandarin, which distills several Yiddish verses into a single plaintive response by the beloved.
Dalloy Polizei
This song is derived from 2 songs from the Jewish radical community of Russia in the early 20th century-Dalloy Polizei ("Down With The Police") and In Alle Gassen ("In Every Street").  The verses are mine. The story of police murder in the 2nd verse is a true and recent one, from Prince George. I suggest that if you cover this song, you insert your own rhyming story of police murder, from your own region of the world.
I Am Going to Jail
Sluttarded were the greatest band in the history of Canada. We married their song to some old Hungarian Chasidic wedding tunes. Like Canada, it works in practice though not in theory.
Rabbi Berner Finally Reveals his True Religious Agenda
Based on the true story of the Franckish Heresy of the 17th century, a bizarre messianic Jewish cult of total permissiveness. Bob Cohen told me about this when we were driving around Romania.
Oh My Golem
In this song I use the famous tale of the Golem of Prague, in which a Rabbi creates a giant clay man who goes out and avenges or protects the Jewish people. In some versions of the story, the Golem goes out of control. The Golem is a metaphor here for the Israeli Defense Force, and the Rabbi is the left-wing western European Jewish intellectual tradition, which created modern Zionism with no help from the crazy Jewish fanatics who blight Israel today.