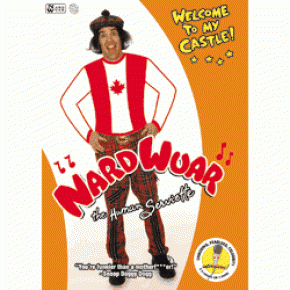 The runaway success of Nardwuar the Human Serviette's 2006 double - DVD release Doot Doola Doot Doo… (ask for it by name) has led to many demands from the public regarding more material. Fortunately, a treasure trove of historically priceless Nardwuar material was recently uncovered during a reorganization of the archives (okay, somebody tripped over a file box). Inside, a real find. Nothing less than ANOTHER double-DVD set worth of vintage Nardwuar (intrepid Canadian journalist, bon vivant, rawk singer of The Evaporators, obsessive music fan, walking fashion statement and daring media personality) interviewing or otherwise encountering actors, musicians, celebrities and politicians who are all much more famous than him. Thrill to Nardwuar's audience with Bob "Gilligan" Denver. Feel the chill when Mickey "The Monkees" Dolenz does not appreciate Nardy's charm. Pray that he's made out his will when he opens his mouth in front of former presidents and prime ministers-because those guys have friends with guns.
If you don't know Nardwuar (the one from Vancouver, B.C., in case you know another), he's been called one of Canada's national treasures- known for his appearances on MuchMusic, his writings for Chart, Razorcake, Roctober, Popsmear and Flipside magazines, his contributions to Soundproof (the coolest rock video program ever) and also for his radio show (20 years and still rocking) on the University of British Columbia's campus station CiTR 101.9. He can manage to keep a straight face while asking a ridiculous question of a world leader, astound a musician with his encyclopedic knowledge of obscure music, or drive a self-obsessed celebrity to the breaking point. And he can usually accomplish all three before lunchtime, which is good, because then he's got his afternoons free.
What's on these two DVDs? About 5-and-a-half hours of unique content that includes two television specials that Nardwuar produced for public access cable before he became known across Canada via the MuchMusic network. There's brand new videos of his band, The Evaporators. And there's scads of full-length interviews and bonus material with folks like Tommy Chong, Nirvana, Sonic Youth, former President Gerald Ford, Ron Jeremy, Tom Vu, Anthony Robbins, The Degrassi Kids, Flea, Cynthia Plaster Caster, Ron Jeremy, Jello Biafra, Timothy Leary, Courtney Love and debonair longtime Canadian Prime Minister Pierre Elliot Trudeau, to name but a few (well, about half).
-Dave Watson
Georgia Straight
Special Features:
* Over 5.5 hours of unboring, fearless, celebrity interviews on two DVDs!
* Nard Raw: A whole disc of stimulating bonus interviews!
* Audio Commentary!
* Videos from Nardwuar's band The Evaporators new CD/LP "Gassy Jack and Other Tales" !
* 16 Page Booklet!
* Easter Eggs!
Please Note: This DVD does NOT include *any* music by any of the artists interviewed. As with the previous DVD (the one that this one is a prequel to), there is no music performed by any of the musicians listed—these are interviews about their deepest thoughts and feelings.