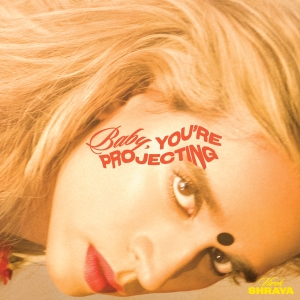 Multi-disciplinary artist Vivek Shraya has a body of work that crosses the boundaries of music, literature, visual art, theatre, and film. Among her list of accomplishments is an impressive catalog of music—including the Polaris Prize-nominated Part-Time Woman with Queer Songbook Orchestra (2017) and Angry by her band Too Attached (2018), which CBC described as one of "Canada's most incisive, radical and galvanizing albums." 
After twenty years of releasing music independently, Vivek will make her label debut with Baby, You're Projecting, a visual album which comes out on Mint Records on May 12, 2023. Unlike her previous musical offerings, which were more sonically compartmentalized, Vivek endeavoured to create a genre-fluid album. Inspired by great female-fronted pop records (including janet. by Janet Jackson, Sheryl Crow's self-titled album, and Lemonade by Beyoncé), Baby, You're Projecting holds the breadth of Vivek's sound and style in one space. Ranging from house to hip hop to country, Vivek's singular voice and songwriting holds the record together and resonates in every genre. 
Produced by and co-written with frequent collaborator James Bunton (Donovan Woods, Ohbijou), Baby, You're Projecting is a break-up album that explores Vivek's tenuous relationships with men. The danceable "Good Luck (You're Fucked)" is an empowering pop anthem for women and femmes clapping back at male fragility. The swelling ballad "He Loves Me Until He Hates Me" exposes the underbelly of male affection against a backdrop of sharp strings by Drew Jurecka (Dua Lipa, Rose Cousins). And the twangy "Colonizer" circles around the unique complexity of being in an interracial relationship. The record also features performances by Alanna Stuart (Bonjay), Christine Bougie (Bahamas, Amy Millan) and Kimmortal. 
Baby, You're Projecting is being co-released with a 12-minute film titled "He Loves Me Until He Hates Me," set to songs from the record and directed by award-winning cinematographer Gabriela Osio Vanden. Taking inspiration from 90's classics like The Bodyguard and erotic thrillers, the film creates a meaningful (and playful) look at the unpredictability of masculinity—how it can fluctuate in insidious ways within a relationship, how one can be worn down in this type of power dynamic, and worse, how that can turn into lateral violence towards other women.