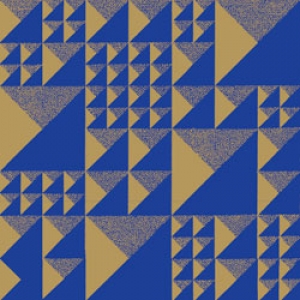 Featuring artwork from the Florence Broadhurst Design Library (look her up!), 180 gram vinyl includes full lyric insert!
With her ethereal voice laid majestically over a myriad of ambitious harmonies built with synthesizers and looping pedals, Larissa Loyva's sophomore album is a looming presence on the horizon of the Canadian music scene. While critics adored her work with P:ano, The Choir Practice and on her lauded 2008 debut Flamingo, Kellarissa (Finnish for "in the basement") bares her soul more honestly and nakedly than ever on her epic opus Moon of Neptune.
Recorded with producer/synthesizer enthusiast Josh Stevenson at Otic Sound from June to November of 2010, with additional drum programming by Certain Breeds' Dave Reynolds, this unique album took shape during the aftermath of a long-term relationship. Others might not have undertook such a project at such a vulnerable time, but Larissa embraced this opportunity to channel her energy into being productive and reconnecting with her first love. Her lyrics and inflections betray her tribulations, while her songwriting reveals her influences, including her Scandinavian heritage, films, ancient Egypt, Nico, outer space, and eccentric Australian designer, Florence Broadhurst (1899-1977), whose artwork graces the cover of the album.
Though the weight of transmutation hangs heavy over much of the album, there are moments of triumph and extroversion. The organ may lend a somber quality to "Sisu" and its Finnish lyrics, but a translation unveils a story of resistance, having the chutzpah to persevere despite hardship. Running almost seven minutes, "Niagara" captures the space and nature themes running through the record, with Loyva's delayed vocals solemnly proclaiming the end of the world over a minimal whole-tone synth chord. By the time you hear "Undock", with its poetic dissection of a space station departure and driving instrumental, you will be floating in a most peculiar way.
Whether she's spooking you out or sweetly sucking you back into the album, Moon of Neptune finds Loyva in, as always, top form. - Georgia Straight
[Larissa] Loyva's creative scope, as well as the beauty of her voice, marks her as an artist to watch. - Exclaim!