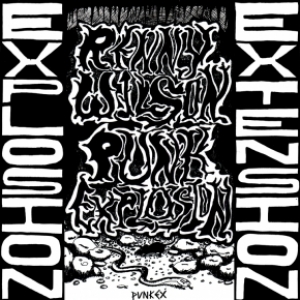 Comes on jet black vinyl. Now that's punk!
Punk Explosion/Extension, or Punk Ex for short, is the latest musical detour from the loins of Canadian avant-pop artist Renny Wilson. Recorded between 2007 and 2014, Punk Ex follows Renny's natural progression from the breakup of his high school garage punk band, the Subatomics, in 2007 to his present-day life in Montréal.
Calling back to snotty '70s punk, corn-ball classic rock, and scratchy '90s garage punk, the album makes more than subtle hints at the past while painting a clear picture of the future. From the lighter fare of "Youngsters" and "Clean" to the cheeky cock-rock of "Stiffed", or the guttural, cartoonish power-pop of "Escaping Alive", Punk Ex offers a variety of leather jacket-bound jams to choose from, as you would expect from an album made over so many years.
"Seven years in the making, Punk Explosion is an unhinged hodge-podge of punk and garage rock that thrashes like a shark in a kiddy pool" - NOISEY