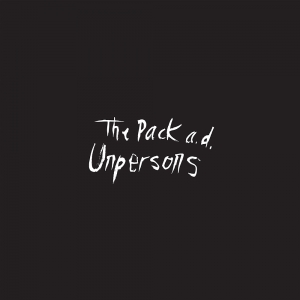 The Pack a.d. and Mint Records have teamed up once again to awaken the dormant beast that is Unpersons.

Originally released on September 13, 2011, Mint Records is releasing a 10th anniversary edition of Unpersons by The Pack a.d. on "haunted" glow-in-the-dark vinyl with a foil cover on February 4, 2022. 
This limited 10th anniversary reissue of Unpersons celebrates an album that established The Pack a.d. as a band by which to compare others. 
Shredding and pounding their way through every song, The Pack a.d. swallows you whole inside their own fearless Franken-blend of heavy psych pop/garage-rock. 
Unpersons was recorded at the legendary Hive Studios with engineer Jesse Gander and famed Detroit producer (The White Stripes, The Detroit Cobras, Electric 6) Jim Diamond, who insisted on flying in to produce the record firsthand. After the sessions, the band went back to Michigan to perfect the mix together. 
The result was a flawless record that took all the snarl, piss, vinegar, venom and vitriol heard on The Pack a.d.'s first three albums into a realm distinctly their own. Any prior reference to other rock duos like The Kills or White Stripes became no longer relevant after Unpersons. 
10 years later, singles from Unpersons are still some of The Pack a.d.'s most recognizable and beloved, including fan favourites "Sirens" and "Haunt You." Long live The Pack a.d.!
"The riffs are raw and raunchy, the drums hit like a punch to the gut, and the no-bullshit production highlights the two-piece's primal power." 
- Alex Hudson, The Tyee 
"The Pack is not just another garage-blues duo, it's one of the best, it's pushing that loose sound in its own direction. It's a feat to make hard-driving rock feel desolate, simultaneously woodsy and industrial."
-Mike Ostrov, Nine Bullets