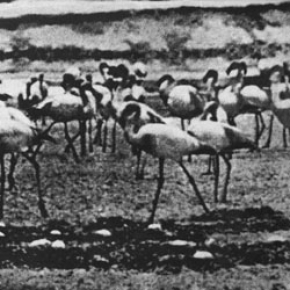 You may recognize the name Larissa Loyva from her previous outings with quirky popster Nick Krgovich as part of
P:ano
as well as a member of the dropout dream team
The Choir Practice
. Here we present to you,
Flamingo
, the solo debut from Loyva under the Kellarissa moniker.
Filled with synthesizer and vocal loops smothered in a haze of reverb where Kellarissa asks eternal questions disguised as pop songs, it is a multifaceted choose-your-own adventure novel of a pop record. Bearing a moniker that literally means "in the basement"—think shag rugs, red lampshades, cocktail hour, and muumuus—her work prior to Flamingo earned Kellarissa a license in pop sorcery, and makes this a magical one woman show that you don't want to miss.
The sounds flicker like a flame in a dark room and her hushed tones make the song feel like that most intimate of conversations - a secret meant just for you. - HeroHill
...a cocktail of otherworldly pop - Slant Magazine
...an assured, challenging, and yet entertaining work. - AllMusic