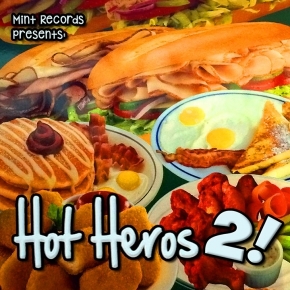 Here's another installment of the ever-popular-gravity-defying-bodega-art-bestowing Hot Heros series! Hot Heros 2 is 14 tracks of tasty goodness for your ears--although we're not asking what the generous dollop of twirled brown paste the kitchen staff have blessed that stack of pancakes with!
Just like last year's comp, every Mint band was asked to nominate a band of their choice to join them on this release. Don't miss out though, because this lil gem will only be available at the 2015 Ridiculously Early Xmas Party at the Astoria in Vancouver, BC, Canada as a cassette for the first 50 people to arrive.
Energy Slime – Another snappy vignette of bite-sized micro-pop that blasts into orbit and back in less than two minutes, recorded in Ryan Dahle's studio with his brother Kurt on the drums, this crispy delight is a dream that we're happy to pump up LOUD.
Fake Tears – These two make shimmering synth-pop drizzled with gorgeous soaring harmonies sound effortless, but imitating a robot voice? Now, that's no easy feat.
Heaven For Real – This marks the second time the brothers Grundy have been included in our Hot Heros series. That makes their batting average 100% and songs lacking ridiculously awesomeness ZERO so far. Now that's an enviable record to keep.
Tough Age – We've heard this one performed a lot of times live over the years and always wondered when its infectious hooks and bubblegum riffs were going to see a physical release, and now it finally has! (rip Mammoth Cave).
Aaron Read – Sometimes Aaron Read and Burton Cummings have the same moustache, but that's really all they have in common aside from the fact that they have both penned a pop gem titled "American Woman" to their name.
Renny Wilson – Maybe you thought this was going to be punk, maybe you thought it was going to be disco. Whatever you expected, it probably wasn't this catchy little earworm.
Faith Healer – Renny Wilson proved he can be all things to all people this year, and this remix that transcends the pop culture space-time continuum is no exception. Or maybe it's just a really great dose of its namesake.
Fresh Snow – Swirling hypnotic rhythms from the ever-growing armada of Toronto's experimental underbelly.
Monomyth – I went to go visit these guys in Halifax this year and found out what Faces Magazine really is. It was the most liberating moment of my post-solopsistic life. It could be yours too.
Kiss Painting – This Vancouver trio brings you the only zombie themed song from this year's cassette, and it's a true nightripper.
Brazilian Money – Not a ghost? Could have fooled me with that mellow introspection that meanders beyond the physical world and into the ethereal with the help of that oh-so-smooth guitarwork.
Cantoo – The fact that someone in the room has E.S.P. never stopped anyone from plucking out five minutes of poignant psych-tinged folk rock, and these Edmonton pals prove they can too!
Pick A Piper – Brad has been hinting at this song that he wrote and recorded with his dad (!!) for a really long time now and we're honoured to give it a physical release!
Radd Ron – Intoxicating repetition. Flawless execution. Successful musician.