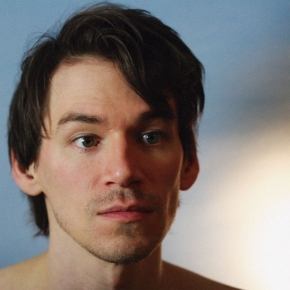 For years, Vancouver multi-instrumentalist Jay Arner has teamed up with others to translate the sounds in his head.
He's fronted an indie rock band, played synthesizers and samplers in a pop duo, manned the drums for a piano-punk songwriter, and held down the bass in a eight-member collective. Along the way, he's also become a sought-after producer and remix artist, working out of the legendary Hive studios and recording acts like Mount Eerie, Apollo Ghosts, Rose Melberg, No Gold and many more.
Now, finally, he is going it alone. Every sound you hear on his eponymous debut album — due out this summer through Mint Records — was self-recorded by Arner in his 72-square-foot practice space using a precariously perched desktop computer and his home recording gear. The sum of his many talents, these 10 songs sizzle with DIY energy and encompass the scope of the songwriter's diverse resume.
Opener "Midnight on South Granville" sets a dark tone with its coldly mechanical intro before flourishing into a lush post-punk synthscape that reflects Arner's love of analogue electronics. Elsewhere, the bass-heavy pulse of "Broken Glass (In the Hall of Shattered Mirrors)" draws on '70s pseudo-funk, while "Wildest One" is an abrasive surge of distortion and "Don't Remind Me" is a soaring pop anthem that recalls classic Murderrecords songcraft. The lyrics are filled with self-doubt and wry cynicism, but don't expect confessional heartbreak — these timeless melodies and intricately wrought arrangements are filled with noisy pop sweetness, and there's not an acoustic guitar to be found.
Given that Arner wrote, performed, recorded and mixed every note on the album, it's only fitting that it's self-titled. The cover artwork is a close-up photographer of the man's face. This is him at his most unfiltered and uncompromising, with only his musical whims to answer to.