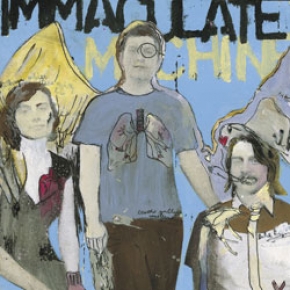 Some bands struggle to walk a line between light and heavy or choose one path or another, but Immaculate Machine have worked out the not-so-simple art of serving both masters at the same time. - AllMusic
Sometimes you'll never know when a long lost family member will show up, let alone one you never knew you had in the first place. Such was the case when Immaculate Machine lead singer and keyboardist Kathryn Calder inadvertently found out she was the long lost niece of Carl "A.C." Newman of the New Pornographers.
Following the coincidental connection, Immaculate Machine joined the Mint family and, under the production guidance of John Collins and David Carswell, created Ones and Zeros, a sharp, sophisticated pop album that wastes not a single note. At an average age of twenty three, Victoria BC's Immaculate Machine were a power-trio in the finest tradition of the phrase, with Luke Kozlowski and Brooke Gallupe singing and respectively playing drums and guitar. Soaring and steady three-part harmonies, rotating lead vocals, intricate melodies, and thought-provoking lyrics are compacted neatly with keyboards, guitar, and drums (no bass guitar—Kathryn handles that instrument with her left hand).