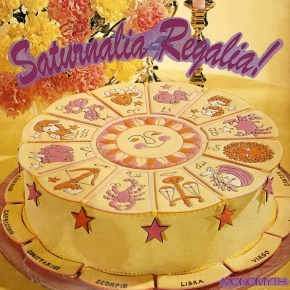 Monomyth is a crown jewel in the court of the crimson and clover. The Halifax four-piece carries on the hallowed East Coast tradition of janglophile pop with a smirking sense of humour, stadium-sized hooks, and starry-eyed harmonies from the barbershop of broken dreams.
The Monomyth monarchy is made up of twin tone guitarists Josh Salter and Seamus Dalton, stately bassist Graeme Stewart, and soft touch drummer Matt Peters, with the frontline swapping songwriting duties and turns at the mic. In the tightly knit Halifax kingdom, their faces can also be seen in beloved local bands like Nap Eyes, Moon and Psychic Fair, plus previous projects including Bird World and Quivers. These dizzying rotations have resulted in an all-star sovereignty with a princely pop pedigree, ruling with a velvet glove and ready for the next realm. 
Following a pair of self-released cassettes and a two-song quick hitter for tape label Craft Singles, Saturnalia Regalia! heralds their triumphant LP debut. Though there's a clear sonic lineage with the holy Halifax trinity of Sloan, Thrush Hermit, and the Super Friendz (whose bassist Charles Austin assisted in this album's production), Monomyth also invoke the amber-encased Americana of Big Star, pranksterish pop moves of The dB's and The Soft Boys, Television's tangled guitarmonies, MBV tremolo 'gaze, and the radiant ramble of Relatively Clean Rivers.
That may sound like a vast range of sonic touchpoints, but the band's three-piece throne prefers to explore all corners of their catholic tastes. "All of the songs were written independent of each other, so it doesn't have a theme running through it, intentionally anyway," says Dalton. "It's all guitar, bass and drums, but having three songwriters adds some ups and downs. The many moods of Monomyth…"
While it's far from a prog-style concept album or Van Dyke Parkian song cycle, Saturnalia Regalia! is threaded with a through-line from the Monomyth universe, exploring the timeless terrain of The Prince and the Pauper. "Saturnalia is the pagan holiday that Christmas took over," explains Salter. "It's also the day where the slave and the king have a role reversal. I think of a slave in a king's uniform, because regalia comes from the word regal. Our last album was called King, Does This Not Please You? (Behold The Power), so it's a vague reference."
Musically, these songs run the stylistic gamut from an airy, Monkees-inspired intro ("Theme from Monomyth") to a stormy shoegazing centerpiece ("Downer"), with the band's trademark vocal harmonies weaving through live staple "Pac Ambition" and the extended finale of "The Big Reveal." Moments of prettiness and placid calm are broken up with jarring shards of feedback and off-kilter shredding, stirred on by a final spiritual inspiration, The Replacements. "I think it's fun throw a wrench in the gears just to see what happens," says Salter. "It's important to make pop music that's a little fucked up because otherwise it's just pop music."