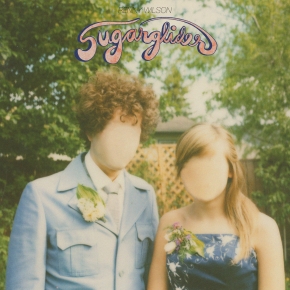 After almost a decade of struggle, strain, and delay, the debut record from Edmontonian Renny Wilson has now seen the light. His first ever release, Sugarglider draws blood from disco keystones such as Bad Girls, and the spirit of Arthur Russell. Common elements of chillwave, krautrock, and a healthy dose of Haunted Graffiti can also be heard in a bold, tempo-matched digital-delay.
Sugarglider starts out by taking you on a saxed-out, psychedelic, electric-bass powered dance party, riddled with the sounds of late 1980's FM Synths, 12 bit horns, and regret. The soul-plane flies high, low, and then back up again before it fizzles away into a motorik-opera. Only to slap back with deep, white-boy funk, cosmic pulsar-pop, and sampled-string schmaltz. The contrast of upbeat music and melancholy lyrical content provide a tasty combination for any groove-oriented listener. Tap this valiant freshman effort into your varicose, and you'll find yourself crying vaseline tears of self-pity on the dance floor.
It's lush and pretty, and more importantly: soft. Not in a bad way, though. It's more that it feels blurred at the edges, existing in a constant half-sleep state of near bliss. - The FADER
I have a feeling Renny could get a girl wetter than Prince can. - VICE 
His smooth style mixes soft rock with disco-dazzled pop, making for a sound that is as dreamy as it is danceable. - Exclaim!
Sugarglider is a revelatory listen that exposes a genuine talent who's managed to excel at effortlessly nailing a distinct sound. - Exclaim!