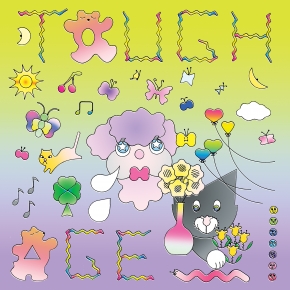 Released just in time for their appearance at the Mint Records showcases at Ottawa Explosion and Sled Island, the EP is a manifesto, introducing fans to their new direction. Tough Age joined Mint Records in 2013 and has released two LPs on the label, their self titled debut in 2013 and I Get The Feeling Central in 2015. Since relocating to Toronto from Vancouver three years ago the band has channeled their love of underground Flying Nun styled indie pop and stripped down to a 3 piece to facilitate efficient touring and writing. The band is back in action this summer with tour dates and festival appearances at Sled Island, Ottawa Explosion and Sappy Fest.
The single kicks off with two snappy tracks featuring bassist Penny Clark on vocals. "Guess Not" is a blistering blink-and-you'll-miss-it punker that sounds like an angry Shop Assistants song and is followed by "Not Bad" a swaggering piece of indie pop that mines the golden age of intelligent DIY indie pop. Guitarist Jarrett Samson rounds out the record with "Unclean," an ode to the classic kiwi pop of The Clean and Double Happys. The track builds up from a deceptively simple guitar line held together by the solid drumming of Jesse Locke until it reaches an unhinged surf rock crescendo.
The EP was recorded and mixed by Peter Woodford in Montreal at The Bottle Garden (Tops, Moss Lime) and the artwork was handled by Toronto based comix artist Ginette Lapalme. Mint Records' own Jay Arner took care of mastering. 
500 pressed on black vinyl