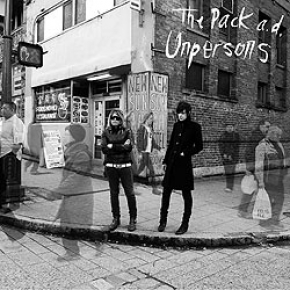 In 1962, Neil Sedaka said, "Breaking up is hard to do." Well, breaking up just got a whole lot easier with Unpersons, the full-on fourth album in The Pack a.d.'s indomitable catalogue. This is the album to vaporize those who shall not be named, and erase any trace of their existence with a dense cloud of fuzz bomb riffs, tribal rhythms, and hard (legal) drugs.
Braving a bombardment of devils, ghosts, mutants, and arseholes, the determination and prowess of drum demolisher Maya Miller and belligerent guitarist/vocalist Becky Black has never been so palpable. The Vancouver duo's confidence in the studio and skill as musicians has grown exponentially between records, culminating with an epically fierce explosion of blues, punk, and garage rock that dwarfs all those before it. Neither mythological beast nor unrepentant dipstick stands a chance of surviving the aural onslaught of Unpersons.
Like their last two albums, The Pack a.d. recorded Unpersons at the legendary Hive Studios with engineer Jesse Gander. However, where famed Detroit producer Jim Diamond (Electric 6, The Detroit Cobras, The White Stripes) mastered 2010's we kill computers from afar, he flew in - on his own insistence - to produce Unpersons first hand. After these sessions, the band went back with him to Michigan to perfect the mixing together.
The result is a flawlessly produced and performed record that projects all the snarl, piss, vinegar, venom and vitriol heard on their first three albums into a realm that is distinctly their own. Any reference one may wish to make to The Kills or White Stripes is no longer relevant. When Unpersons hits stores on September 13 of 2011, The Pack a.d. will have inarguably established themselves as a band by which to compare others.
Long live The Pack a.d.!