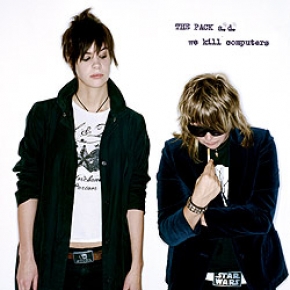 Wild beasts, as a rule, belong in their natural habitat. British Columbia, Canada's westernmost province, is home to more than 1138 species of wildlife, over 150 of which are classified as endangered, threatened or vulnerable. Sadly, a new class of wild creature native to the region was recently identified as a breed on the brink of extinction: the noble but savage rock 'n' roller. These ferocious beasts once flourished throughout B.C., but in modern times, commercial interests have laid waste to their breeding grounds and rendered members of this once-regal species impotent.
For a time, it was nearly impossible to see the pure, unfettered ferocity of these creatures in the flesh. But about two years ago, hope arrived in the form of The Pack a.d., an unassuming duo who reintroduced listeners to a blistering assault of scuffed, scarred bluesy riffs, pounding drums and unholy howls -- rock 'n' roll as it was meant to be played. Drummer Maya Miller and guitarist/vocalist Becky Black may have cut their teeth on the mean streets of East Vancouver, but their superb recordings Tintype and Funeral Mixtape (both released in 2008 on Mint Records) made it clear that these were no city-girl dilettantes: both of 'em had something wild and wonderful running through their veins. Those lucky enough to witness The Pack a.d.'s performances staggered out of those clubs feeling as though they'd been demolished by a force of nature.
In 2009, The Pack a.d. played a jaw-dropping 157 live shows. When they weren't unleashing rock 'n' roll fury, Maya and Becky were trapped in a van. They drove through raging wildfires, swerving to avoid throngs of fleeing animals. They drove through the Rocky Mountains and were left speechless -- as cheesy as it may sound -- by the breathtaking splendour of the trees and the towering rock formations.
When Becky and Maya came to the end of this epic road trip, two things were clear in their minds: 1) Computer-worshipping humans don't hold a candle to the awesomeness of wild beasts; and 2) It was time to stop singing the blues. The pair hightailed it to their HQ (a tiny, unheated band space smack in the middle of Vancouver's notoriously gritty downtown east side) and got to work. As with most things in The Pack a.d. universe, the process was organic: within two weeks, Maya and Becky emerged with we kill computers (Mint), a ragged, thundering wallop of an album that makes their earlier releases sound tame by comparison.
The two women worked diligently to capture the sweaty intensity of their live act in the studio. Once again, they teamed up with the supremely talented Jesse Gander (Japandroids, Bison b.c.), who'd been on hand during the Funeral Mixtape sessions, and recorded razor-edged garage rock straight off the floor to analog tape. When it came time to master the best 13 tracks for an album, Maya and Becky turned to engineer Jim Diamond, the man who helped finesse the piss 'n' vinegar sounds of the Detroit Cobras and the Dirtbombs. The result? we kill computers is as raw and urgent as a The Pack a.d. performance.
Unshackled from the swampy weight of the blues, The Pack a.d. attack their tunes with the gleeful viciousness of coyotes descending on a carcass. From the sawtoothed snarl of guitars that lead into album opener "Deer" to the heavy Sabbath-worthy riffs of "1880," these 13 tracks bristle with a newfound sense of crispness and precision. And while The Pack a.d. approach their human neighbours with caution, we kill computers is fittingly packed with celebrations of wild creatures, great and small. "All the deer they follow me," Becky yowls, "They all know we're not enemies." Sharks stay in constant motion and predators stalk prey in the tense, stuttering "Crazy," and fish and snakes streak through "Catch," a mastodon-sized cacophony of power chords and crashing cymbals.
At its core, we kill computers is a glorious testament to the power of animal magnetism, bound up in some of the finest swaggering garage rock you're likely to hear. It's the sound of beer-soaked basement shows and deer hooves scuttling across the interstate. It's the sound of two natural wonders released into their native habitat. And it's nothing short of killer. we kill computers comes on with the brute force of an Acme anvil, then speeds off into the distance like a rock 'n' roll roadrunner. Beep beep, motherfuckers.