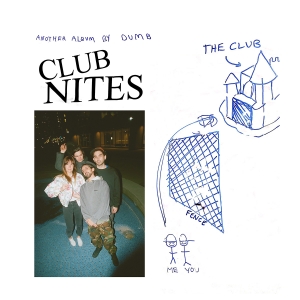 Dumb are good at plenty of things, but relaxing isn't one of them. The Vancouver four-piece write feverish tunes at a frantic pace, delivering their post-punk songs in two-minute blasts of wiry riffs and indignant social critiques. Less than a year since they signed to Mint Records for 2018's Seeing Green, they're already back with a new full-length, as Club Nites will be released on June 7.
Club Nites picks up right where Seeing Green left off, with singer-guitarist Franco Rossino's brash, half-spoken shouts set against his bandmates' stripped-down, sinewy arrangements. Guitarist Nick Short is as comfortable with austere rock riffs as he is with timeless pop progressions, while bassist Shelby Vredik and drummer Pipé Morelli are relentless in their pummelling rhythms.
 The LP has the energy of a raw nerve: the songs are dry and in-your-face, with crisp production that leaves every squeal of feedback and hollered refrain exposed. Curveballs come in the form of the wafting vocal harmonies of "Some Big Motor Dream," the sing-song Spanish-language yelps of "De Más," and the scritch-scratchy hand percussion of "Slacker Needs Serious Work."

Packing 14 tracks into a little more than half an hour, Dumb are unfailingly economical, with no-nonsense song structures that last just long enough to get stuck in your head. The band belong to a lineage of jagged garage punk that runs from the Minutemen to Pylon to Parquet Courts — and there's even a dash of the classic pop smarts of the Zombies and the slacker alt-rock of Pavement.
As the title indicates, Club Nites is a collection of narratives drawn from the nightlife ecosystem. Cynical but never self-serious, these songs offer unromantic insights about being unable to meet the lofty expectations of your peers ("Beef Hits"), showing disregard towards your closest friends ("My Condolences"), and feeling overstimulated in a world of Netflix queues and YouTube algorithms ("Content Jungle"). Dumb wrote and self-produced the LP in their own studio over the course of a few months in early 2019, with mastering from Mikey Young (Eddy Current Suppression Ring, Total Control). In typically tireless fashion, the band won't be taking any time to rest and will immediately hit the road in North America. If you've ever felt alienated by club nights, Club Nites is the antidote.