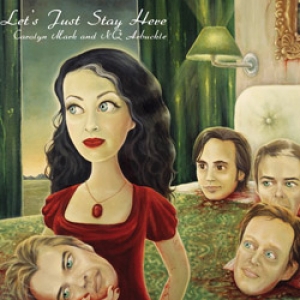 Sometimes you have to ask yourself, "am I a team player?" and/or "do I play well with others?"  Whether you like it or not, these are important things to know about yourself.  Sure, you can go with the whole "Lone Wolf" thing but that only really works if you are a Traveling Salesman or a Rogue Cop or a Serial Killer.  If you are, say, a Musician, "an ability to get along with people" is probably a good thing to have on your resume.
In interest of full disclosure, Let's Just Stay Here is not the first time that Carolyn Mark and NQ Arbuckle have recorded together.  Perhaps it was a harbinger of things to come, but back in 2005 they recorded the track, "Fireworks", for another of Carolyn's collective recording projects, Just Married: An Album of Duets.  They were not alone in noticing that there was some, for lack of a better word, "magic" there (which illustrates an interesting facet of cooperation, sometimes 1+1 can equal infinity).  So, like Gretzky and Kurri, Burns and Allen, Peanut Butter and Jelly, they decided to take this winning combo and head for the Big Time.
Let's Just Stay Here is what teamwork is all about. Of the 12 songs, 6 are originals by Carolyn Mark, 3 are originals by NQ Arbuckle and the remaining 3 are hand picked cover songs chosen for the important places they occupy in each musician's personal cosmology. Or maybe just because they like them.
So sit on down an enjoy an album that is all about playing well together, and reflect upon how much more fun things are when you have a partner in crime.
[Mark is] a passionate vocalist with a tone that at times recalls latter day Emmylou Harris (the way she opens up "2nd Time" recalls the Red Dirt Girl's recent output), a great sense of phrasing, an impressive range, and the ability to turn an emotion at the flip of a dime. That Mark remains in fine, fine vocal form isn't a surprise to any of those who have been listening to her or her collaboration with Neko Case over the years. - Popmatters
With her warm twang and nonchalant sass, she has an easy way with a song, settling into opener "All Time Low" and the closing title track like she's crashing on someone's especially cozy couch. - Pitchfork
Thanks to a sturdy rhythm section and to the dueling guitars of Quinlan and Peter Kesper, they kick up a rambunctious honkytonk verve that sounds livelier than her last album, 2007's mostly acoustic Nothing Is Free. - Pitchfork