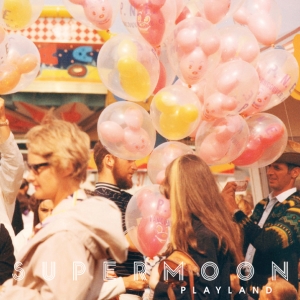 This is a 2 x 7" played at 33 1/3 RPM! Also available on Cassette.
The self-proclaimed gadabouts of moody pop, Supermoon, are at it again! The group's latest excursion, Playland, bubbles with intelligent, weirdo songs that combine sunny riffs and distorted ring outs. Coated in sugary vocals with driving bass, spectral guitars, and marching drums, the songs of Supermoon seem to wink at something lurking beneath the surface.
Recorded with Tom Prilesky and mastered by Josh Stevenson at Otic Sound in Vancouver, BC, the interplay between the musicians is central to the group's sound as each instrument weaves in and out of the soundscape. Sharing the space and creating layered compositions, the friendship and respect between the members of Supermoon becomes obvious when listening to Playland. Dueling guitar riffs, dynamic breakdowns, and responsive rhythms are all direct results of this reciprocity. The outcome of the band's close relationship can also be heard in the warmth that permeates the album. There is a distinct tenderness to their musicianship, even in its more ominous moments.
At times, the album can be voyeuristic in its sincerity, such as in the late night pop lament "Witching Hour". However, it is also laced with unreliable narrators who easily betray their thoughts and emotions, like in the grungy and propulsive "If You Say So" or the obsessive and unhealthily sweet "Bottleships". Despite the disarmingly melodic vocals, Supermoon interlaces night time themes throughout, covering the darker aspects of everything from the ethics of love ("Unsaid") to the messed up world of fashion ("Fast-Fashion").