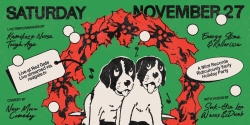 Season's Greetings! The time has come for the Mint Records Ridiculously Early Holiday Party!
The night will feature live performances by Tough Age, Energy Slime, Kellarissa, and Kamikaze Nurse. We'll have special guests from New Moon Comedy, and performance videos by Sook-Yin Lee, Wares, and Dumb!
Where: Red Gate (1965 Main Street) and Online (Streaming link will be provided)
When: Saturday, November 27, 2021
Doors at 7:30pm, Show at 8:00pm
Tickets: $10 pre-sale on Eventbrite or PWYC at door (Suggested $15). If you are not a Red Gate member, you'll have to buy a PWYC membership at the door. Get your tickets here.
Venue info: In order to abide by the provincial health orders in place for "Phase 3" the Red Gate will be operating under the following conditions until further notice:
Capacity is set to 120, not including staff or performers.
All events will have seating. If attendees wish to remove their mask while they watch the acts they must remain seated. (You may remain standing if you wear a mask.)
Masks will be mandatory when not seated or outside in the smoking area.
All events will be open to Red Gate members only. A membership can be purchased at the door for $10 (PWYC) and supplying your email address and vaccine immunization record.
We ask that only people who are fully vaccinated attend our events. We also ask that if people are feeling symptomatic that they stay home.
If you can't attend in-person, but still want to support your favourite bands, you can get a PWYC online ticket to stream the show from home.
Fundraiser: The funds raised from online and in-person ticket sales for this event will be matched by Mint Records and donated to the Urban Native Youth Association, whose work supports Indigenous youth leadership by providing a diverse continuum of advocacy, preventative and support services that respond to their immediate and long-term needs.
Show poster design: Nada Hayek @sloppyjohannson