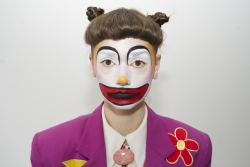 You know Neko Case, and you know Carolyn Mark, and we're excited to introduce you to our latest signing, Nora Kelly Band!
Nora Kelly formerly led the post-punk band DISHPIT before embracing country music during COVID, and the band was born of jamming by the train tracks of Montreal's Mile End neighbourhood. People flocked to listen and sing along–until the cops chased them off.

Nora Kelly Band first caught our attention when they released the song "Hymn for Agnostics" off their Perfect Pig EP. Today Nora Kelly Band shares their new single "Lay Down Girl" and announce their debut album, Rodeo Clown, which arrives August 25 on Mint! 
Rodeo Clown was written by Nora Kelly, produced by Kelly with Ethan Soil, and mixed by Pietro Amato (The Luyas/Belle Orchestre).
Going clown-mode runs deep with this first single and accompanying music video. When people think "clown" they think funny, or maybe creepy, but always of that painted smile. For a song about overcoming one's tendency to people please, a painted smile makes for the perfect metaphor. Watch the video directed by Gabie Che.
"The lyrics to this song were direct advice that I was giving to myself, to stop being a 'Lay Down Girl'," notes Kelly. "To stop staying put, acting sweet and putting everyone else first. Other people's approval had been my priority for so long that over time my connection to what I liked and what I wanted had become weak. The lyrics are advice to this former self, with a chorus that chants, 'I've been a fool…I'm going back to school, but this time my education's gonna be 'bout myself."
Listen to "Lay Down Girl" on DSPs
Follow Nora Kelly Band
Instagram | Facebook | TikTok 
Listen
Bandcamp | YouTube | Spotify | Apple Music | TIDAL | SoundCloud