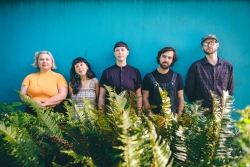 Mint Records is thrilled to team with Only A Visitor to release the Vancouver quintet's fourth album and Mint debut, Decay.
The announcement comes with a new single and music video for "Fraud of Finery," directed by Lief Hall.
"It was incredibly inspiring bringing together the dance improvisations of Justine Chambers and the beautiful music of Only A Visitor. It was an exciting challenge to find that perfect interplay between the movement and sound…I looked for those gestures and musical forms that had a kind of indescribable resonance together." - Lief Hall
Only A Visitor's Robyn Jacob describes "Fraud of Finery" as "a song about being close but yet so far, reaching over barriers of communication, and showing love and connection through the digital versus the tactile. The music takes a simpler turn with a meandering, stripped down chord progression that cycles through each verse. A slow, romantic waltz that reaches into the chorus with expansive harmonies on the lyrics 'be apart, be a part.'"
Watch the video for "Fraud of Finery"
About Only A Visitor
Described as "Bjork's light-footed nymph child," (Beatroute) Vancouver quintet Only A Visitor bring a precise and buoyant live energy to song-crafting with their "kaleidoscopic compositions" (Dusted Magazine). Fusing together avant-pop, jazz, classical, and DIY influences and substituting guitar with three-part harmonies that "display a delightful innovation" (HuffPost), they have released three albums to date and have recently signed to Mint Records for their fourth release, Decay. Since forming in 2015, they have appeared at the Montreal, Halifax, Ottawa, Toronto, and Vancouver Jazz Festivals and the Vancouver Island Music Festival, among others, and have toured Canada and internationally. With drummer Kevin Romain, bassist Jeff Gammon, and vocalists Emma Postl and Celina Kurz, classically trained but DIY-nurtured songwriter and arranger Robyn Jacob wraps gently asymmetrical sonic tendrils around pop skeletons.
Decay was recorded, engineered, and mixed by Joseph Hirabayashi and mastered by Brock McFarlane at CPS Mastering. With their additional finesse, Only A Visitor capture a vibrancy at once fluttering and serene. They reach a harmonic balance that seems impossible on paper but lives in each of Decay's nine tracks and works as well as the delicate vocal interplay between Jacob, Postl, and Kurz; hear for example "Degree by Degree," an undulating track in constant motion. Sparse, spacious arrangements on "All You've Held" and, most exemplary of all, the a capella "A Whole of a Life" allow the dynamic vocal range between each singer to rise to the fore. Never pushy with forward-thinking sensibilities reminiscent of the Dirty Projectors and Joanna Newsom, Decay is a subtle suite that contains more depth than its levity suggests.
Only A Visitor's exacting sound is deceptively relaxed and playful on Decay, leaning on the darker side compared to past releases. Exploring themes such as memory and its disappearance, the ephemeral and cyclical nature of existence, the chain of generational knowledge transfer, and the fruitful potential of things breaking down, the album is a nod towards returning: to the places of your childhood, to the land, to living with integrity and sincerity through a whole life and towards its end.
Pre-Orders for Vinyl/CD/Digital are now available on the Mint Webstore.