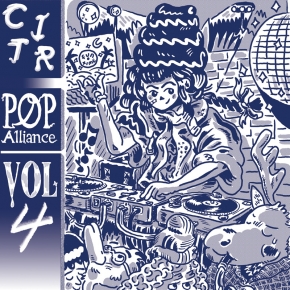 Spring approaches, breathing new life into the Canadian landscape. Across a clearing in the woods, a miraculous sight: CiTR Pop Alliance Compilation, Volume 4!
Mint Records and CiTR 101.9FM have partnered up once again to release the fourth edition of this compilation series, with eleven songs from Vancouver's freshest acts. The record arrives just in time to raise funds for the local campus and community radio station as part of their annual Fundrive, which runs from February 25 to March 4. It's the newest chapter in a lengthy story of partnership between Mint and CiTR.
Side A opens with Ora Cogan's surreal "Move," from her acclaimed EP Crystallize (Hidden City). Track two's a retro thrill from the The Shilohs, "Do the Modern," off of their upcoming tape Empress Stars (Light Organ). The rest of Side A charts an excited path through Vancouver post-punk: with exclusive tracks from Genderdog (RIP) and newly-formed trio Jerk Jails, along with Poor Form's 2014 single "July." It fades out with a special treat: Cult Babies' tribute to Lauren Smith of Tough Age, "Sister Thirteen," exclusive to Pop Alliance Vol. 4.
Side B expands the boundaries of pop further, opening with two haunting electronic-experimental melanges: Mourning Coup's "Burn One for the Saints" from Baby Blue (No Sun), and Stefana Fratila's "Homeland" off of Efemera (Trippy Cool). Two ecstatic meshes of indie rock and shoegaze noise follow with Late Spring's "Drink You," from their 2015 debut, and an exclusive track from Ace Martens, "Hiding." Closing out the fourth Pop Alliance is a meditation from minimalviolence, the exclusive track "Body as Landscape."
But who are all these bands on CiTR Pop Alliance, Vol. 4?
Ora Cogan – "Move"
"Big feelings.... All sorts of them. All at the same time." – Ora Cogan
The Shilohs – "Do the Modern"
Just a rock song about being out of it at a party. Recorded in a shed behind the Lido with Malcom Jack. Matt Krysko on the organ solo, Mike Komaszczuk on the guitar solo. This one could have—should have??—gone on for twenty minutes.
Genderdog – "Aquarium Apartment"
R.I.P. Genderdog...
Jerk Jails – "Extra Flesh"
THEE new band that everybody needs to pay attention to, Jerk Jails are a heavier reincarnation of the Neo Boys. "Extra Flesh" is a Pop Alliance exclusive, and grinds below yer flesh straight to the bone.
Poor Form – "July"
Call it pop-punk or power-pop as you will, bottom line is this is excellently harmonized rage. Poor Form captures the kind of rage and disgust that embraces life in its nastiness. If you aren't hearing it in July, it could take you back to those idle scorchers. Nothing to do but yell and think.
Cult Babies – "Sister XIII"
Groovy psych from some of Vancouver's best. Let the haze pummel and/or engulf you, and give in to whatever visions you wish. Written about Tough Age bassist Lauren Smith.
Mourning Coup – "Burn One for the Saints"
Mourning Coup's music exists in an ethereal realm. Where pop music is distorted in a funhouse mirror and made to matter. You're dancing by yourself, but all the skeletons of your past are invited.
Stefana Fratila – "Heartland"
"I intended "Heartland" to be listened to on a road-trip or a train ride, it's a song to listen to while in motion, brimming with an intoxicating nostalgia of missing home, or the "Heartland", which for me has always been split between two places, Canada and Romania." – Stefana Fratila
Late Spring – "Drink You"
Late Spring is an art rock band from Vancouver, Canada. They frankenstein together psych/surf, grunge, and noise influences. "Drink You" is o their debut self-titled Late Spring EP (self-released April 2015).
Ace Martens – "Hiding"
Silky smooth and sticky sweet, "Hiding" is the first song laid to tape since the man became the group: Ace Martens. Recorded in a dimly lit room by Ace himself, the track features Shyla Seller's tender keyboard and Sarah Cordingley's chime-laden drums. This song is an extra special exclusive that can only be found on this compilation. It was taken as an early outtake from recording sessions for the forthcoming Palm Springs EP.
minimalviolence – "Body as Landscape"
minimalviolence is one of the top-notch representatives of Vancouver's thriving underground dance/house scene. Turn the lights off, make sure the room is ice cold, and wallow as you warm up with this gothic pulse.