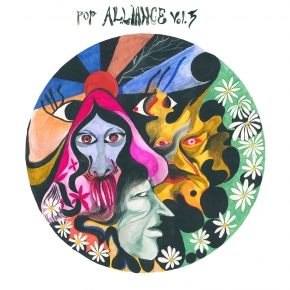 CiTR 101.9FM and Discorder Magazine have teamed up with Mint Records for the fifth volume of Pop Alliance. The series, which has become a bi-annual tradition between Mint Records and the University of British Columbia radio station, aims to showcase everything that is new and vital in the Vancouver independent music scene. Past artists featured have included The Courtneys, Weed, Ora Cogan, Apollo Ghosts, Peace along with a wide variety of other Vancouver staples. This year another group of artists from a diverse range of disciplines including High Plains, Swim Team, Tough Customer and more highlight some of the best from the West Coast ca. 2017-18.
Curated by Music Director Andy Resto and members of the CiTR Student Executive, CiTR and Discorder have settled on a broader understanding of the definition of "pop" this time around. Their aim was to craft an album never lacking in excitement. Kicking off with a sincere piano-driven pop ballad from Chris-a-riffic, the first half of the LP then continues in an odd and angular route with Tough Customer's "Secretly the Mayor" before descending gradually darker between the almost danceable art rock of Swim Team and the depths of post-punk dread in Passive's "Vulture Halo." The second half of the LP departs completely from the established Pop Alliance structure, bookended with two contemporary classical pieces from Vancouver/Madison duo High Plains (feat. Scott Morgan of Loscil) and long-time cellist and composer Peggy Lee, who wrote her piece "Landscape" exclusively for the compilation. The two middle tracks are high-energy, at times frantic electronica from shitlord fuckerman and Devours.
Interspersed throughout the record are small interludes which use distorted clips of songs that had appeared on previous Pop Alliance compilations. The interludes serve as both a callback to the history of the series while also signifying a departure into musical and artistic realms beyond their initial scope. This gives a vitality and living nature to the record which reflects the ever changing and growing landscape of Vancouver's music scene.
Artwork for Vol. 5 was done by Andrea Lukic (Nu Sensae, Hick) and ties together an overall penchant for a left-field, avant-garde approach to the pop medium.
Pop Alliance Vol.5 will be released at a CiTR station fundraiser party in East Vancouver on Friday, April 13th at The Astoria. The event will feature performances by several of the artists appearing on the compilation including Swim Team, Tough Customer, Devours and Chris-a-riffic.