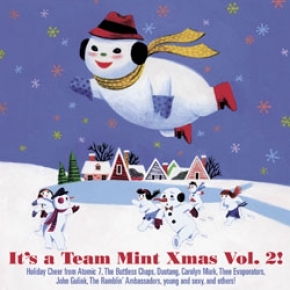 Just in time to celebrate the 2004 holiday season came Mint Records' second Christmas release, It's a Team Mint Xmas Vol. 2! You may recall Vol. 1, a snappy, now out of print, 7" record that featured five holiday-themed songs from your pals at Mint Records and their friends just four years prior. It's a Team Mint Xmas Vol. 2 contains those five classic songs and piles a few more on to make a 13 song CD that goes well with your holiday stuffing and couple glasses of wine.
Best of all It's a Team Mint Xmas Vol. 2 contains a little gem you don't want to miss: The Buttless Chaps' version of Band-Aid's classic "Do They Know It's Christmas"! The track features a variety of Mint artists: Carolyn Mark, Coco Culbertson (The Gay, The Choir Practice), Grant Lawrence (The Smugglers, CBC Radio 3), Ida Nilsen (The Gay, The Beans, Radiogram, The Buttless Chaps) Katie Sketch (The Organ), Tobey Black (The Gay, Maow), Maija Martin (The Gay, The Tennessee Twin, I Mudder Accordion), and Paul and Lucy (Young and Sexy).
Mint and the artists on this compilation will donate $3 from each CD sold to the foundation set up by the United Nations Secretary-General's Special Envoy for HIV/AIDS in Africa, The Stephen Lewis Foundation. For more information on that, go here.