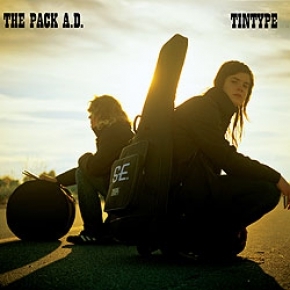 Becky Black and Maya Miller of The Pack A.D. mean business. They take life on the road, Civil War stories, coffee and cigarettes, stir them into a vicious concoction of garage rock and Jack Daniels and then boil it alive in the blues.
Holding the torch high in today's garage rock revival, this Vancouver duo strikes with a raw, hell-torn, blues-rock swagger that is equally contemplative and unflinching. The Pack A.D. is a duo. But do not expect a stripped down drum and guitar outfit. The Pack A.D. is two women. But do not expect "girly" music. The Pack A.D. blends traditional blues and rock, with the focus on rhythm guitar, solid drum lines, and singing straight from the gut. With their full sound, The Pack A.D. is at times haunting and at others irresistibly foot stomping. Black's voice has the feel of a hot, whiskey-soaked night and Miller's drums fill out a restrained, yet loose sound, just waiting on a snowfall... and that's just the way they like it.
Tintype, their debut album, is 17 tracks of Becky and Maya rockin', handing out their blues the way they know best – loud, edgy and unforgiving, and you can't help but respect their blunt, no bullshit approach. Enough with the flashy lightning-bolt haircuts of today; The Pack A.D. are here to take on the world, one town (and one cup of coffee) at a time.