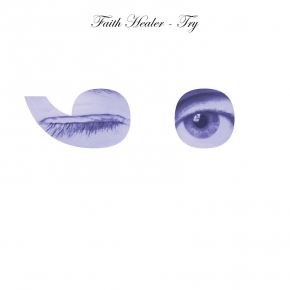 When Edmonton's Jessica Jalbert first began performing solo under the name Faith Healer, the alias was her way of avoiding being pigeonholed as a singer-songwriter. Now, however, times have changed: Faith Healer has blossomed into a band, with singer-guitarist Jalbert joined by drummer/multi-instrumentalist Renny Wilson. Their first LP as a duo is called Try ;-) and it will be out on September 8 through Mint Records.
The follow-up to 2015's Cosmic Troubles was largely recording during an intensive month-long session in September 2016 at Wilson's personal studio in Montreal. During the process, Jalbert rented a room in Wilson's house and the pair spent hours jamming and listening to bargain bin rock records in the basement.
"The last album had a lot of flowery '60s flourishes," Jalbert explains. "This time, we wanted to simplify it and just do some straight-ahead songs. Focus on the song itself rather than all of the production." The pop-rock arrangements are still overflowing with beautiful sonic details—from the Twin Peaks synths that enshroud "Sterling Silver" to the funky clavinet that's nestled within the paisley-patterned pop of "& Waiting"—but the instrumentation is stripped down enough that it can be faithfully recreated by a live band. Jalbert and Wilson were inspired by the garage-punk snarl of Wipers, the deadpan drama of Leonard Cohen's Death of a Ladies' Man, and the classic songwriting chops of Scott Walker and Elvis Costello.
The relatively stripped-down arrangements, combined with Jalbert's graceful hooks and pitch-perfect delivery, make Try ;-) sound effortless. The truth, however, is that its creation was anything but simple: the songs were meticulously crafted with great effort, with plainspoken lyrics that thoughtfully reflect on self-empowerment, depression and appreciating the good in life.
"Light of Loving" is a particularly wild ride, with a stormy five-minute groove that ebbs and flows between skulking fuzz riffs and sudden explosions of careening drums. It was originally written as a looping drone that Jalbert performed during a solo set, and it took its final shape during an epic jam session with Wilson. "We jammed on it for four hours and recorded the entire thing," Jalbert remembers. "By the time we were finished jamming, my hand hurt so badly I had to stick it in the freezer and ice it."
The intensive creative process inspired the title of Try ;-) and serves as a reminder that sometimes you need to grab life by the horns rather than waiting for inspiration to strike. As for that winky face: "I always use that winky emoticon," Jalbert says with a laugh. "I think it's hilarious. I think it's cheeky and fun, which is something I was trying to access a little more with this record."
Balancing melancholy lyrics with playful moods, lush melodies with straightforward arrangements, Try ;-) is the sound of an introspective loner leaving her bedroom to make a rock record with her best bud. It's what happens when you stop taking life as it comes and instead throw all of your effort into making timeless pop songs. Forget what the bullies told you in middle school—there's nothing cooler than trying hard.