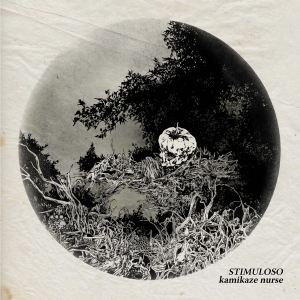 Combining the word "stimulus" and the Spanish suffix "-oso," Stimuloso explores—and elicits—just that: a stimulated, excited feeling. Whereas Bucky Fleur engulfed listeners in swirling chaos, Stimuloso presents an evolution, taking risks in playful introspection and refined composition. The turbulent title-track defines the album's mood and message, that through the entanglement of love and hate, life and death, and starts and stops, a potent, vitalic charge arises.
The 10 tracks on Stimuloso began gestating soon after Kamikaze Nurse finished recording Bucky Fleur. "Aileen" was written in response to a friend's passing in 2019. The undeniably poppy ballad "Come from Wood" wrote itself after singer-guitarist KC Wei listened to the Pixies' B-side "Into the White" on repeat for months, all the while pondering the song's simplistic, mysterious allure. "Never Better"'s meditative mantra, "Ya never / Get better," circles back over itself like a My Bloody Valentine zen painting, culminating in a soothing state of bliss. These three songs lay the foundation for the rest of the album, which came together through an organic and increasingly collaborative songwriting process between Wei, guitarist Ethan Reyes, bassist Sonya Eui, and drummer John Brennan. 
In 2020, amidst the first wave of the pandemic, the members spent six months self-recording instrumentals for Stimuloso in their jam space. After another weekend completing vocals at Rain City Recorders, they handed off the album to Deerhoof's Greg Saunier, who further endowed Stimuloso with swagger and teeth through his skillful mixing.
Characteristic of Kamikaze Nurse, whose name comes from activist-philosopher Simone Weil's unfulfilled humanitarian death wish, Stimuloso draws inspiration from an array of sources including David Cronenburg's gut-wrenching tragedy Dead Ringers, the free-flowing, vaguely narrative poetry of John Ashbery, and Mao Zedong's "Iron Girls," icons of changing gender norms during the Chinese Cultural Revolution. Softly spoken lines of poetry combine with recurring motifs of animals barking, snapping, and growling to conjure a sensory universe both ethereal and familiar.
Kamikaze Nurse's evocative integration of melody and noise, along with their interests in film, literature, and history, creates a narrative world containing its own internal logic. Pushing beyond genres and conventions, there isn't a dull moment as Stimuloso propels listeners through a gamut of emotions ridged with dizzying highs. 
"That shit is good, damnit" -Dan Bejar
--
This project is funded in part by FACTOR, the Government of Canada and Canada's private radio broadcasters.
Ce projet est financé en partie par FACTOR, le gouvernement du Canada et les radiodiffuseurs privés du Canada.