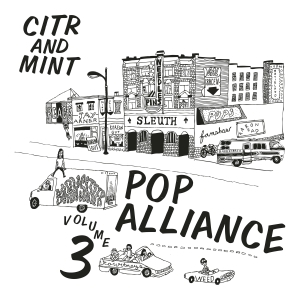 Hand assembled and silkscreened by the people of Mint and CiTR, this 180 gram vinyl comes with an informative booklet and free download! Only 300 copies ever made.
Remember that time we got really high off of paint fumes while silkscreening Mint/CiTR Pop Alliance LP covers? Well, we went ahead and did it all over again! (Only this time with the windows open).
To carry on the Pop Alliance tradition, we called upon CiTR's Duncan McHugh (aka: the host of Duncan's Donuts) to bring together 14 of Vancouver's finest including Jay Arner, Movieland, Korean Gut (RIP), Peace and more. Many songs are un-released and once again, all proceeds go back to CiTR 101.9 - the birthplace of Mint Records!
And while we're rambling, check out the incredible album artwork from former CiTR DJ, Melanie Coles. Mr. Jay Arner also deserves a golden star for mastering this creation and producing many of the tracks on the record.
Now, you're probably wondering about the bands: 
Movieland: Movieland is Alie, Selina, Adrienne and Davina. They take turns writing their own songs."1-2-3-4 Get Fucked" comes from their soon-to-be released debut on Green Burrito Records. It was mixed and recorded by Mr. Jay Arner.
Peace: According to Spin, "Your Hand in Mine" is a moonlit number with a heavy heart and dead eyes. We borrowed this track from their 2012 release called The World is Too Much With Us (Suicide Squeeze).
Jay Arner: Jay Arner is the multitalented man-about-town who co-recorded the new Apollo Ghosts record and contributes to bands including Fine Mist, Bleating Hearts and Gal Gracen. He was kind enough to produce several songs on this compilation and mastered the release too.
Gal Gracen: Patrick Geraghty, of Role Mach (you may remember him from Volume 2 of The Pop Alliance collection), calls his newest band Gal Gracen and features Adrian from Apollo Ghosts as well as Jay Arner.
PUPS: PUPS is Caitlin Livingston, Katie Gravestock and Rose Melberg. They are from Vancouver, B.C.
Fanshaw: Olivia Fetherstonhaugh aka Fanshaw is known for taking her time with songwriting. This was the first song to surface following her Dark Eyes debut. After listening to it, we're still here, patiently waiting to see what she does next. 
Aaron Read: Born and recording in Burnaby, BC, Aaron Read makes maunal pop songs with guitars, drums, voices, noises and keyboards. Songs are made out of and always inspired by friends, family, films, experiences and field recordings.  In 2011, he captured our interest with his debut record, Bubble Skulls. Since Aaron is a total mensch, he recorded "Unlimited Sight" especially for us. Thanks again Aaron! 
Korean Gut: Korean Gut is a surf-garage band, but they don't exist anymore. Jarrett wrote this song about something their bass player said at practice, and it morphed into a bitter rant against people who confront you in troubled times just to feel better about themselves. At least it wasn't about comic books for once. You should probably check out theirYour Misery – Our Benefit 7" (Mammoth Cave). It is a thing of true beauty. When we told them about this comp, Korean Gut were kind enough to record this song just for us. 
Needles//Pins: This is powery, poppy, garagey, punkish stuff from Vancouver, BC. "I Heart Drugs" came from their 2012 creation 12:34 (Mammoth Cave).
The Courtneys: Sun drenched flying nun influenced pop with sweet licks that'll stick with you for days. 
"The Courtneys are one of those bands that you can file under "feel-good." I mean, the three-piece named their first release Keanu Reeves (yes, after THAT Keanu Reeves), and their songs don't have a single angry bone of note." – Vice
The ladies even have a video for "90210" – you can watch it here.
Babysitter: "Be Cool" is an outtake from their 2012 full-length debut called Eye (Psychic Handshake).
"Victoria B.C.'s Babysitter are a savvy bunch of garage gourmets whose love of lo-fi and d.i.y. decor is honest and appealing." – Discorder
Bankrobber: This is Jordan Minkoff from Slam Dunk's other band, which pretty much automatically makes them awesome. Bankrobber is and will always be the band most closely associated with it's roots firmly planted in a mix of this meets that and vice versa. Since 2010 it has been Bankrobber that has been making that familiar sound of a dog biting a dog on a doglog.
Weed: Weed is a heavy, grungey pop band from Vancouver, BC that features Will Anderson, Kevin Doherty, Hugo Noriega and Bobby Siadat. When not recording they play all-ages shows and publish a free monthly newsletter with Lucky's Comics called "Dunk". This song is from last year's Gun Control EP. They just finished recording their debut LP in Seattle to be released in mid-2013.
Sleuth: Sleuth are the 2011 CiTR Shindig Winners, have been featured on a Cloudberry Records compilation, played NYC Popfest last year, have one release, Brave Knew Nothing and are currently working on new recordings. Besides tipsy bowling with Mint Records, The Lion in Love, Julian Bowers, Oliver McTavish-Wisden and Leon Easter enjoy long walks on the beach and evenings by the fire.