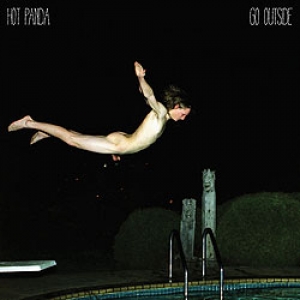 While 2010's live-off-the-floor album How Come I'm Dead? partially reflected the Olympic chaos within which it was recorded, the third album from Vancouver-via-Edmonton's Hot Panda reveals a band investing its energy into a stable mode of creation, the overall sound of the album features a more mature and thoughtful tone. While lyrically tackling crippling social disorders like cynicism, depression, and close-mindedness, Go Outside manages to retain the energy, humor, and sub-genre diversity of earlier Hot Panda albums and their renowned live performances, which principal songwriter Chris Connelly describes as "artful pop music, but played with a punk rock spirit."
Connelly tackles some fairly intense subject matter on this record. While their last album was relatively philosophical, here he hits on visceral socio-political topics like 'with us or against us' extremism on the opening "One in the Head, One in the Chest" and the sad state of the market-based global economy on the brooding "Future Markets." Other tracks provoke more quiet moments of reflection, like worrying about being left behind by your people in "Littered Coins" and not falling to possessiveness and jealousy in a relationship in "Boats."
Yet, this is not a transition from the band's more freewheeling, light-hearted roots to soul-baring egotism and moralizing. This album is not about revelling in negative thought patterns, but the struggle and value in overcoming them. Connelly's sense of humor shines through on a rather sarcastic, fictional account of being in a relationship with a selfish person on "Holidays" and the jaunty musing of waiting for things to peak in "Maybe Now?" Of course, the title track itself offers an affirmation for being positive, open, and excited. It's pure joy, a notion reinforced by the unabashed cover art. Overall, Connelly's lyrics are more worldly, while his voice itself, processed but not pitch-corrected, sounds more grounded.
Continuing their legacy of eclectic lo-fi indie pop albums for Mint Records, Go Outside presents a snapshot of a band reaching a new plateau, solidifying Hot Panda as one of the brightest stars on the Mint roster. Once again recorded by the famed JC/DC team of David Carswell and John Collins (The New Pornographers, Tegan and Sara), the album is just as vibrant as their first two albums, yet significantly more developed.
Straddling an interesting line between art-rock and punk-pop, Edmonton's Hot Panda have produced a terrific album, one which combines intellectual and lyrical heft with a sure ear for a catchy riff. - Uncut
...it sounds as if Hot Panda are having as much fun writing and playing this music as folks will have listening to it - and that's a significant good time. - allmusic