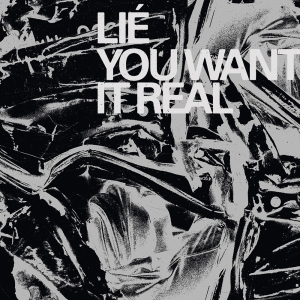 CDs come with a silkscreen canvas patch! LPs are limited to 300 copies and are pressed on piss yellow vinyl. 
With ties to techno and a penchant for earth-rumbling post-punk — along with a staunch willingness to stop rape culture, privilege and patriarchy in its tracks — there's no denying that Vancouver trio lié [pronounced "lee-ey" and lower-case preferred] are an integral force in the global underground. Since forming in 2013, they've only grown louder, brasher and more intense as they've developed their sound across numerous releases and a near endless stream of international DIY tours. That momentum has culminated in You Want It Real, an eight-song LP to be released on February 28, 2020 via Mint Records.
You Want It Real, the band's fourth album, expands on previous themes with an assured intensity and plenty of world-weary lyrics. Sonically, lié's recordings have unleashed the full-bore wall of sound that's present in their live shows. That's due in part to the work of legendary punk producer Jesse Gander (White Lung, Japandroids), who has helped unlock a further disharmony of melody and feedback in the band's relentless aggression.
While lié had previously made a name for eschewing vagaries in favour of direct confrontation in their lyrics, You Want It Real leaves plenty open to interpretation. As guitarist and vocalist Ashlee Luk explains, the goal was to let some musical and metaphorical moments stand on their own. "Part of the shift away from the direct lyrics of previous albums is also in part to encourage the listener, (and the interviewer) to focus on the music as well, not just the lyrics," Luk says. "When people focus too much on the lyrics it tends to overshadow the musicality which I think should speak for itself, especially on this album. That being said, this doesn't mean any less care was taken in constructing the lyrics, quite the opposite actually, more that there has just been an effort to focus more on imagery and flow."
That's not to say You Want It Real is any less confrontational than past releases. "You Got It," for example, is a fierce track that leaves no punches pulled. Still, the album manages to explore the absurdity of life in a modern dystopia without beating us over the head with it. Opener "Digging in the Desert" pairs heavy bass and skull-searing guitars as bassist and vocalist Brittany West guides us through the sandy moonscapes of New Mexico — a setting she's picked to explore what she describes as "hedonistic feelings and being eaten alive by the hardships of love." Then there's "Bugs," a Flipper-esque dirge that crushes metaphorical insects of self-doubt, worry, anxiety, stress and fear. Undoubtedly living up to its title, "Drowning in Piss" is a woozy, disorienting and strangely enjoyable bad trip. 
Musically, the sheer thrill of the album is the trio's ability to build enormous and complex compositions within the constraints of a traditional punk structure. The members of lié are no strangers to finding the beauty within rigidity, as Luk and West moonlight in the respective acid/rave/techno projects Minimal Violence and Sigsaly. While that influence is not immediately obvious in lié, the ability to think outside the box has proven contagious. "It makes you think outside of the typical rock song structure" drummer Kati J says regarding the ways electronic music has inspired the band.
Armed with aesthetic assuredness, relentless musicianship and lyrics that are at once bleak and empowering, there are few bands on earth quite like lié. And with You Want It Real, they've made their most challenging and cohesive statement to date.