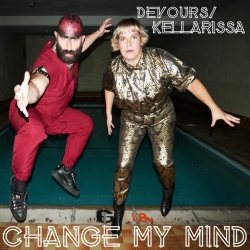 Vancouver-based queer synth pop icons Kellarissa and Devours have released an end of summer banger called "Change My Mind" and share upcoming joint tour dates.
Kellarissa (Larissa Loyva) and Devours (Jeff Cancade) were drawn to one another as kindred spirits longing to carve out a space for their queer, pop-infused synthwave. After touring together in 2018, it was a natural progression to collaborate on a song, which finally materialized in the fall of 2020 in the form of "Change My Mind". They've been patiently scheming ever since to unleash it upon unsuspecting fans. Cancade laid out the tracks and fleshed out the chorus, while Loyva contributed the verses, their voices effortlessly blending together to create a bittersweet anthem about having second thoughts in a relationship.
Listen to the song here.
Tour Dates:
8/21 - Record Release Show @ The Lido (Kellarissa w/ The Golden Age of Wrestling)
9/3 - Wonderhorse (Devours)
9/8 - Victoria - TBD
9/9 - Nanaimo @ City Hole
9/10 - Cumberland @ Masonic Hall
9/11 - Gibsons @ 'Postrophe
9/17 - Vancouver @ Anza Club w/ Total Chroma
10/1 - Pop Montreal (Kellarissa)