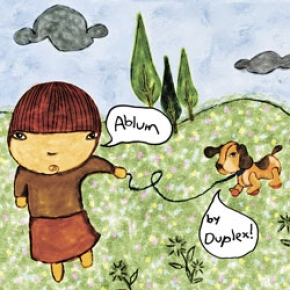 1... 2... 3... 4... This is our powerchord!
So begins Ablum by Duplex!, the debut CD release from Vancouver, BC's pre-teen sensation, not surprisingly called Duplex!. We should come clean right off the bat: they're not all pre-teens, but some of them are really really pre. Like as in a three year old, an eleven year old, a twelve year old, and a hodge podge of their parents. We should also mention that this is a kids' record first and foremost. But like all great children's music, this record offers lots of good times for the adults too!
Meet the gang:
Abe Caruso (plays xylophone, harmonica, and rattles. Age: 3. Member of the Abe Caruso Project).
Annie Wilkinson (plays bass, Barry's Melodica. Age: 37. Member of Great Aunt Ida, the Beekeepers, Onward Voyageur).
Justin Kellam (plays drums, percussion, and a dog. Age: 32. Member of p:ano, No Kids).
Matt Caruso (plays guitar, mandolin, and fake marimba. Age: 35. Member of the Beekeepers, Chariots of Eggs).
Saoirse Soley (plays electric guitar, organ, nose trumpet, and kielbasa. Age: 11. Member of M. Michelle's Grade 6/7 class & the Leaky Heaven Circus).
Shaun Brodie (plays trumpet, euphonium, and tambourine. Age: 25. Member of the Neins, AC Newman, Hidden Cameras).
Sierra Terhoch (plays piano, fake strings, and maracas. Age: 11. Member of M. Michelle's Grade 6/7).
Veda Hille (plays piano, organ, casio, fake choir, and tenor guitar. Age: 35. Member of herself).
Everybody sings!
An enormously fun, whip-smart kids' album, recorded by people who all live under the same duplex roof in Vancouver (hence the name), it's the product of the kind of healthy, creative home environment that not enough kids live in. This CD is an absolute joy. - Adrian Begrand, PopMatters
Composing children's music is tricky stuff. It's hard enough to come up with a song that kids will like, but you also have to make sure it won't drive their parents bats. The Vancouver band Duplex! solves this problem by bridging the generation gap... and the results are sweet, daffy, and utterly charming. - Douglas Wolk, Slate