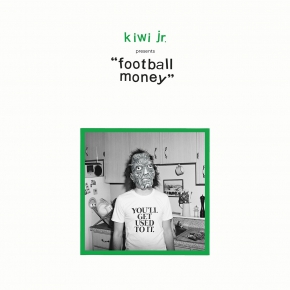 The four members of Kiwi Jr. all live in Toronto, though they originally hail from Charlottetown, PEI, separately finding their ways to the big city over various points in the past decade. Now, having found a common language in jangling power-pop and hyper-literate college rock, they are releasing their debut album: Football Money which comes out March 29th, 2019 via Mint Records.


"It's very much a Toronto record," says singer-guitarist Jeremy Gaudet. "Even though we're East Coasters, there's no nostalgia or romanticizing small towns. This album is about the neighbourhoods we live in and our lives here."


Kiwi Jr. — featuring frontman Jeremy alongside bandmates Brohan Moore (drums), Brian Murphy (guitar) and Mike Walker (bass) — make jangling power-pop anthems for that second coming of age, when young adulthood turns into full-blown grownup responsibility. Football Money's 10 tracks document long-term relationships, proper adult jobs, and life in a big city that doesn't care if you exist.


The brisk 27-minute LP is stuffed with instantly hummable hooks, but Kiwi Jr.'s knack for sweet simplicity is balanced by a love of complex song structures. Grooves turn on a dime, golden melodies emerge and are never repeated, and the lyrics are full of literary references and crafty narratives. Dig past the euphoric group shouts of title track "Football Money" and you'll find a nuanced look at gentrification, while "Leslie" is a pulpy murder mystery wrapped up in a two-minute burst of catchy garage-pop. "Salaryman" explores the wild lifestyles of hard-working office drones who party all night only to pass out on bus stop benches, while "Comeback Baby" is a gorgeous showcase for Byrds-style 12-string arpeggios.


"Instead of being introspective, these songs are looking outward," Jeremy explains. This album
is about the people we meet and things that happen to make up our days and weeks. It's less about trying to express
ourselves — it's more interpreting the outside world."


Kiwi Jr.'s songs are laid-back but never lazy, as the band poured over the LP throughout the course of two years with producer Aaron Goldstein (Daniel Romano, City and Colour). It was mixed by Holy Fuck's Graham Walsh (Preoccupations, METZ), with additional instrumentation and production from Alec O'Hanley (who plays with Brian in Alvvays).


Now that Football Money is done, it serves as a proof that, although big-city life can be alienating, you can still find yourself again by making an album with your friends.